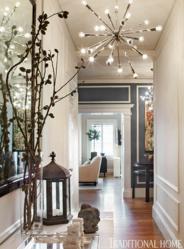 We prefer the clean, contemporary feel that is popular in California, but it's in my blood to respond to objects that are old and have a story
San Francisco, CA (PRWEB) May 09, 2013
Lindsay Brier's Pacific Heights home stands out with its "California-cool" aesthetic in the San Francisco neighborhood known for its classic architecture. While this 1920's-era Edwardian-style apartment building, featuring original moldings and high ceilings, looks formal and sophisticated, Lindsay has made it her own by incorporating comfortable furniture and fun flea-market accessories. "We prefer the clean, contemporary feel that is popular in California, but it's in my blood to respond to objects that are old and have a story," explains Lindsay, whose mother owned an antiques shop throughout Lindsay's childhood. "Having antiques in a room really gives it personality and soul." While this Edwardian flat boasts the easy elegance of Northern California living, Lindsay has managed to side step the urge to be too casual. Lindsay adeptly plays up the formalness of the architecture by choosing tight-back upholstered pieces and playfully mixes them with unexpectedly youthful art and splashes of color in her accessories. Lindsay is commended for designing a truly relaxed and livable space for herself and her family while maintaining the apartments turn-of-the-20th-century Victorian charm.
Brier founded Anyon Interior Design in 2006 and her current ventures include opening a home décor boutique, Anyon Atelier, on Sacramento Street later this month. This area is known as one of San Francisco's best streets to find distinctive local shops, antique galleries and eateries. Already a destination for home décor, Sacramento Street welcomes Anyon Interior Design and their distinct design sensibility. In addition to her busy residential client roster that includes a Pacific Heights remodel and the opening of her atelier, Lindsay is also redesigning a series of rooms for the Kenwood Inn in the idyllic Sonoma Valley.
Lindsay Brier works personally with every client to create exquisite, creative and practical design schemes. The needs, tasted and surroundings are carefully considers for each client to efficiently and cost effectively create spaces that are elegant, comfortable and functional. Lindsay's interest in the decorative arts began as a young child in her mother's antique shop in Russian Hill and has evolved into the sophisticated high-end design firm that serves some of the Bay area's most prestigious clients. To view Lindsay's current portfolio of work, please visit http://www.anyondesign.com.
About Lindsay Brier:
Anyon is a residential and commercial interior design firm that provides interior architectural and decorative solutions for its clients. Anyon's founder, Lindsay Brier, works personally with every client to create exquisite, creative and practical design schemes. The needs, tastes and surroundings are carefully considered for each client to efficiently and cost effectively creates spaces that are elegant, comfortable and functional.
Lindsay's modern and fresh approach is informed by her knowledge and appreciation of classical architecture and period design. Bay Area native Lindsay Anyon Brier founded Anyon in 2006. Lindsay is a professional member of the American Society of Interior Designers, holding the highest level of membership based on education, experience and examination requirements. The National Qualification also certifies her for Interior Design Certification (NCIDQ). Lindsay studied Art History, History of architecture and Studio Art at Dartmouth College and the University of Rome. Since returning to the Bay Area after graduation, Lindsay has studied extensively at the Interior Architecture and Design program at UC Berkeley Extension. Lindsay currently serves on the national committee for Dartmouth Alumni in Design and Architecture.