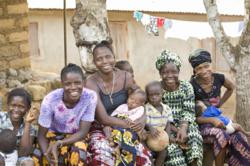 New York, NY (PRWEB) May 09, 2013
For the occasion of Mother's Day this year, BRAC USA has launched "No Mother Stands Alone," a campaign to reduce maternal mortality through grassroots mobilization and entrepreneurship in countries most in need of better maternal health.
The campaign invites all those who believe in the power of local leadership to save mothers' and newborn children's lives to visit NoMotherStandsAlone.org and show their support in three ways:
1. Watch and share a video about a pregnant garment worker in Bangladesh and how BRAC's proven maternal health program empowers her to have a safer and healthier pregnancy and childbirth
2. Record a greeting to their own mother and send a powerful message to mothers around the world, using their Facebook account and a webcam, powered by Sticker.FM
3. Donate to BRAC's maternal health programs in countries like Sierra Leone--and have those donations matched dollar-for-dollar by generous donors including Debra L. Wetherby.
No Mother Stands Alone supports BRAC's adapting its proven maternal health model from Bangladesh to select countries in Sub-Saharan Africa, which according to the CIA factbook include 19 of the 20 highest nationwide maternal mortality rates in the world. The region contains all of the top 20 if you include South Sudan, whose statistics are not yet entered into the listing.
"Done right, maternal healthcare puts the expectant mother where she should be – not as a patient in a passive role, but as an active participant in her own well-being. Our goal is an environment for safe childbirth with an empowered woman at the center, able to make the right choices for herself and her newborn child," says Dr. Kaosar Afsana, director of BRAC's Health, Nutrition and Population Program.
BRAC's approach to health relies heavily on community health promoters -- women recruited from the communities where they serve as local knowledge resources, answering basic questions and connecting neighbors to more sophisticated medical services when appropriate. Rather than earning a salary from BRAC, promoters act as an entrepreneurial franchise network, earning a small profit from the sales of BRAC-approved basic health products and services covering common ailments that can be treated at home. Each promoter may cover up to 250 households, visiting 10-15 households a day.
BRAC has trained almost 100,000 women as community health promoters in Bangladesh, and is now adapting and scaling up similar networks in Uganda, Tanzania, South Sudan, Sierra Leone, and Liberia. Training includes an initial 10- to 18-day intensive course, plus mandatory one- or two-day monthly refresher sessions for as long as promoters choose to remain part of the program.
To address maternal health, promoters receive additional training on ante-natal care, attending home births, and post-natal care. In so doing they also gain the the opportunity to earn extra income from an incentive-based pay system designed to encourage earliest possible identification and registration of pregnancies, and reliable reporting on key ante- and post-natal milestones and related complications.
To complement the efforts of promoters and mobilize the community around better maternal health, BRAC's maternal health programs also organize village committees that conduct awareness campaigns and other initiatives of their own design to educate their communities about the benefits of and challenges around maternal health.
Through community health promoters and village committees, supported by a smaller group of locally-hired staff, BRAC achieves real value for money and scale. For example in Sierra Leone, BRAC estimates cost of coverage at $23 per covered household per year, and expects to reach 142,800 women and adolescent girls and in eight districts from 2013-2014.
BRAC's maternal health program has contributed to staggering progress in its home country of Bangladesh. The country's nationwide maternal mortality rate went from 800 per 100,000 births in 1990 to 194 per 100,000 births in 2010. For the period of 2007-2010, in Bangladesh's urban areas where BRAC's maternal health program operates, there was a reduction in home delivery from 86 percent to 25 percent, automatically lowering the chance of maternal mortality. In the areas around Dhaka where the program operates, the maternal mortality rate by 2010 was below the national average, at 135 per 100,000 births. In rural areas where BRAC's maternal health program operates, progress over the same period shows an increase in hospital delivery from 15 percent to 30 percent, and reduction of maternal mortality to 157 per 100,000 births.
BRAC USA's No Mother Stands Alone campaign invites supporters to help bring that same progress to countries like Sierra Leone, South Sudan, Liberia that need it most.
About BRAC and BRAC USA
BRAC, a development organization founded in Bangladesh in 1972, is a global leader in creating opportunities at scale as a means to end poverty. With more than 100,000 employees, it is the world's largest nongovernmental organization, touching the lives of an estimated 126 million in 11 countries using a wide array of antipoverty tools such as microfinance, education, healthcare, legal rights training and more. BRAC USA is a US affiliate created in 2007 to advance and support BRAC's global mission.
Read stories about BRAC's programs and impact on the BRAC Blog.