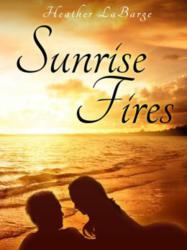 Las Vegas, NV (PRWEB) May 09, 2013
ExpertSubjects.com today announced the release of "Sunrise Fires," an erotic romance about one woman's journey to save her love life and, along the way, save herself. The debut novel by author Heather LaBarge, "Sunrise Fires" is a vividly sensual work that follows the story of Jennifer Simmons, a Las Vegas-based sales executive trying to find her way professionally without losing the love of her life, Ryan Riverton. The two share a true emotional connection and titillating physical chemistry that plays out in LaBarge's sultry sex scenes. A survivor of two failed marriages, Jennifer struggles to believe that she can ever simultaneously have professional and romantic success. Her world turns upside down when an opportunity arises for her to leave her happy relationship and relocate to Germany for a year to advance her career. She is faced with a pivotal choice: climbing the corporate ladder or strengthening her relationship with the man she loves.
While exploring universal themes of love, sex and self-love throughout the book, LaBarge also expertly paints Jennifer as a relatable protagonist: publicly charismatic, strong, confident and independent, but privately self-doubting, fearful and meek. LaBarge's multi-dimensional, complex characters jump off the page and bring this steamy page-turner to life. "Sunrise Fires" is sure to make its way to many women's—and men's—summer reading list.
"Sunrise Fires" is available now at http://www.amazon.com/Sunrise-Fires-Heather-LaBarge/dp/0988820307
About Heather LaBarge
Heather LaBarge is a 24 year veteran of the Air Force, a business owner, and the mother of two. Always interested in writing as a form of creative expression and personal outlet, she has written essays, poetry, erotica and fiction for years. LaBarge lives in Las Vegas, NV and continues to work full time for the Department of Defense while also writing and regularly speaking publicly on self-love, self-sabotage and her personal journey to find one while rebuking the other.
About ExpertSubjects.com
ExpertSubjects.com is a trusted Internet resource for self-publishing authors, writers and educators. The site offers a wide variety of services to connect writers to prospective audiences, including editing, book cover and interior design, formatting and distribution to e-readers, marketing, website design, formatting and typesetting. For more information on self-publishing, please visit http://www.expertsubjects.com.
###