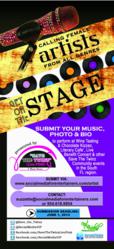 Music is a unifying force that crosses cultural, age barriers and more. We encourage women to showcase their gifts as an opportunity to bring powerful change.
Fort Lauderdale, FL (PRWEB) May 10, 2013
Next Weekend Productions and Social Media for Entertainers are holding a casting call to build a roster of talent to perform at various community events. Female singers, musicians and entertainers of all genres are welcome to audition online and will be selected to perform at a variety of events including the "Save the Twinz": Live PINK!® Literary Café, Live Benefit Concert, and other "Save the Twinz" community events throughout South Florida. There is no submission fee.
The "Save the Twinz": Live PINK!® is a fundraising organization designed to heighten the awareness of breast cancer while inspiring and empowering others to continue the fight against breast cancer through music and entertainment.
Performing on behalf of this prestigious and notable organization will expose you to multicultural audiences and new opportunities. In search of the best local and national talent, artists must be dedicated, passionate, genuine, relatable and engaging. Already formed groups and/or duos are also encouraged to audition.
To be considered, interested participants must submit the following by Saturday, June 1, 2013 to suzzette(at)socialmediaforentertainers(dot)com:

Bio
Head Shot (separate from bio)
Total of three MP3s. Choose from the following genres: Jazz, R&B, National Anthem, Gospel/Inspirational, Soft Rock, Country, Classical and Neo-Soul
Links to all social media sites (i.e. Facebook, Twitter, etc.)
Contact information (email, address and mobile phone)
YouTube videos are not accepted. Artists selected will be notified by June 5, 2013.
For more information about the casting call, visit socialmediaforentertainers.com or call 954-618-8854. To learn more about "Save the Twinz": Live Pink!®, visit facebook.com/savethetwinzlivepink.