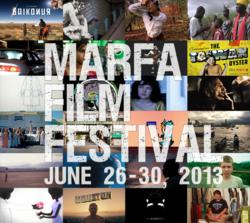 I don't think there is a better backdrop for seeing independent films than Marfa, Texas. That's why I do this.
- Robin Lambaria
Marfa, TX (PRWEB) May 09, 2013
This June 26-30, the acclaimed Marfa Film Festival will return to again distinguish West Texas as an extraordinary North American film festival destination. The much anticipated five-day festival will include indoor and outdoor film screenings, musical performances, art installations, discussions, special dinners, and parties. Festival organizers expect scores of independent filmmakers, international press, and hundreds of locals, visitors, and volunteers to attend.
Founded in 2007, the Marfa Film Festival quickly gained a reputation for it's distinctly relaxed atmosphere, diverse programming, and unmistakably West Texas flavor. Besides, it's line up of some of the best independent films of the year, the festival's signature "Modern Classics" under the stars is one of the regions most anticipated and enjoyable events. Though the festival has not yet announced this summer's outdoor films, previous showings have included There Will Be Blood, Night of the Hunter, Midnight Cowboy, and the Last Picture Show, among others.
Keep an eye out for future announcements as festival staff finalize their music video, outdoor, opening night, and special event screenings. As always, the Marfa Film Festival will continue to surprise and excite past, present and future attendees. "It feels great to be back," said director Robin Lambaria, who has worked for the past five years to bring the best of independent and classic cinema to rural West Texas. With Marfa becoming a household name in the world of film, art and festivals, "...the submissions just keep coming."
Passes are now on sale through the festival's website. For more information visit http://www.marfafilmfestival.com or call the festival office at 432-729-4449.