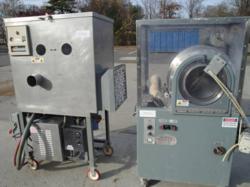 We pride ourselves in maintaining long-standing relationships with our customers.
Bohemia, NY (PRWEB) May 09, 2013
Wohl Associates, a trusted leader in the used processing and packaging machinery industry, now has an inventory of more than 100 pieces of used pharmaceutical equipment that can be used in a production environment. The inventory includes coating pans, encapsulating machines, fillers and sealers, vial washers and more.
Wohl has several tablet coating machines in their inventory including the Accelacota 24" Tablet Coating System with Air Handling. This is a continuous coating pan with a perforated stainless steel chamber. The internal spray gun is designed to coat the tablets uniformly and the perforations in the tank allow for a quicker and more efficient drying process.
This tablet coating system was manufactured by Thomas Engineering and it has 4 casters on its base that allow for easier movement of the machine. The air handling unit that accompanies the coating system is also built on top of casters for portability.
Wohl Associates also has a dual station tablet and capsule packaging line in their inventory. This packaging line was manufactured by DT Industries. It comes with a 22' long stainless steel conveyor that has a spacing wheel, lane diverter, and controls for speed. The machinery includes a 12 lane counter and a 16 lane/ 8 lane dual drop counter.
Another capsule filling machine that can be found in Wohl's inventory is the Elanco Quali-Fill. This Elanco capsule filling machine is rated for as many as 25,000 capsules per hour. The machine has stainless steel cabinetry and will require a change of parts in order to accommodate a customer's specific capsule size.
Wohl Associates' current inventory consists of more than 1,000 used packaging machines. This includes pharmaceutical production machines, bottle labeling machines, jacketed kettles, pouching machines, unscrambling tables, commercial coffee machines, commercial pasta machines, tablet presses and more. This is a family run business and everyone that works here has extensive knowledge about their machines and what is needed to meet the demand of various production environments.
About the Company:
Wohl Associates has been a family owned and operated business for over 40 years. Wohl Associates has earned a reputation as a trusted leader offering quality equipment, expert customer service and invaluable knowledge in pre-owned packaging and processing machinery industries. They take pride in maintaining long-standing relationships with customers. They recognize the need to treat each customer on an individual basis and customers are provided the highest level of service. To view their inventory and learn more, visit them at http://www.wohlassociates.com/
Contact Details:
Wohl Associates, Inc
50 Floyd's Run,
Bohemia, NY 11716