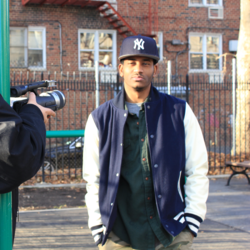 After two years of seeing growth in his royalty checks and music career, Bronx, NY Rapper RayBop recommits to a three year, 360 deal.
New York, NY (PRWEB) May 10, 2013
On May 6, 2013, independent Hip Hop artist RayBop signed a new contract with MVB Entertainment Music Group (MVB Records): a three year 360 deal. Abdel 'Sosa' Russell, the owner of MVB Records and CEO of MVB Entertainment Music Group, shed some light on what he calls "a partnership venture" with the promising young musician:
"There are several examples out there, of small Independent record labels who work with their artists as partners, and we are one of them. At MVB Records, if we can pay our bills and rent, then you best believe that our artist can pay his bills and rent. It's this premise that guided us towards what I consider the future model for artist and label relations: partnership ventures."
By today's norm, the term "partnership" is not a word commonly heard when describing the relationship between artists and record labels, but Sosa strongly feels that there will be no "record deals" in the near future, and also that record labels as they are known today will be a thing of the past. "When more musicians realize that they are a walking record deal, record labels as we know it will cease to exist."
When asked what will happen to MVB Records in this bleak prediction for labels, he says: "MVB Records represents a brand of music. There used to be a time when people discovered new artists and bought music because it was on a specific record label. In the mid to late 90's, I bought anything and everything that was released on Sean "Diddy" Combs' BadBoy records, because BadBoy represented something. With that said, within the next five to ten years, MVB Records' brand of music will be stronger and more recognized by music fans and musicians. And by then, our record label (MVB Records) will literally be just what it is, a label. Everything else: marketing, PR, financing, distribution, management, etc. will be handled by MVB Entertainment Music Group."
Sosa described a snippet of what RayBop's newly signed 360 deal entails:
"Along with the traditional details of a 360 deal, I personally wanted to make sure that Ray was thinking longterm, even at the young age of 22. Most independent musicians, live from royalty check to royalty check-literally. And some can't even pay a cell phone bill with whatever bit of change they receive from their music. With RayBop's new deal, we decided to set precedent. We're not only going to provide studio time and music videos, we're also setting up his financial foundation for retirement as a musician. We're not only investing in his music, we're also investing in his overall creativity. We're also educating him on the importance of becoming an intelligent entrepreneur, by doing business with him outside the studio, and into the world of merchandise."
RayBop, alongside several other designers, will have his CHG merchandise available on MyVisionBorn Clothing Co., a virtual online storefront owned and operated by MVB Entertainment. When asked to go into more specifics about the investment portion of RayBop's new deal, Sosa says that he could not divulge too much, but stated: "more artists need to treat the music business, as a business, and invest in their future, if this is truly what they want to do for the rest of their lives."
RayBop's 2013 started off with his latest release "The Genesis (Best of 2012)" being a featured album on iTunes: as "New & Noteworthy. The editorial team on iTunes called the compilation album "impressive", and labeled the Up-and-coming Bronx MC "a very promising new voice". RayBop is currently putting the finishing touches on his next project "Lifes A HOE", slated for a late June 2013 release date, via MVB Records.
Regina(at)mvbentertainment(dot)com
MVB RECORDS is an independent record label, operating in New York City. The label is a division of MVB Entertainment Music Group (MVBEMG), and owned by MVB Entertainment LLC. MVB RECORDS was created for independent artists who have a growing fan base, and proven music and ticket sales.