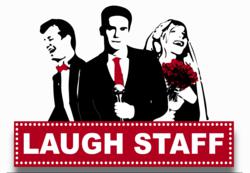 Angry Birds Can Lead To A Happy Marriage
Cleveland, OH (PRWEB) May 09, 2013
On May 9, Laugh Staff comments on an article by Yahoo! about a man's unique approach to asking for his now fiancee's hand in marriage. Laugh Staff believes this man is on to something, and believes his creative approach should be used when delivering memorable best man speeches.
The article details how Australian Ben Levi is a huge fan of the game Angry Birds. He loves it so much that he decided to use it as a vehicle to propose to his girlfriend, Melissa Swift. For regular Angry Birds players, they might find this week's Level Three to be a bit different. It's not too difficult to hit the pigs which are placed on a heart-shaped structure and the words "Marry Me Mel - Ben" are written on the screen. When Levi had the idea to pop the question using the popular game, the developers in Finland were happy to oblige.
Truth be told, Swift is not as big of a fan of the game as Levi. However, after being together for nine years with no proposal, Swift is forever grateful to the game for giving Levi his own way of getting down on one knee.
It's a creative method to proposing, and Laugh Staff believes it should help people when thinking of unique ways to write their speeches. Laugh Staff knows there is more than one way to deliver a funny best man speech. People can use props that have special meaning, references to locations where important events occurred or music that brings back certain memories. The sky is really the limit when it comes to creative ways to pop the question or crafting the perfect best man speech. Ben Levi has kicked off wedding season with a proposal that rang true to his character. Laugh Staff would like to continue to carry the torch of creativity to help write the most memorable, hilarious best man speeches possible.
For more information about Laugh Staff Inc. and their speech writing services visit http://www.laughstaff.com or email info(at)laughstaff(dot)com.
About Laugh Staff:
Laugh Staff, Inc. was founded in 2012 by a team of comedians and writers in Cleveland, Ohio. Laugh Staff helps their clients with best man speeches as well as providing best man speech examplesbest man speech examples on their blog. They assist best men and maids of honor in speech-editing, speech writing, and provide training on speech delivery. Recognizing the importance of the big day, Laugh Staff's professional comedians work with best men and maids of honor to ensure they make a lasting impression.