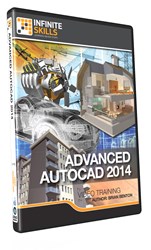 Learn AutoCAD At Your Own Speed.
(PRWEB) May 11, 2013
Software training firm InfiniteSkills last week introduced its "Advanced AutoCAD 2014 Tutorial," a training course designed to assist engineering students and professionals, who use AutoCAD in their daily work routine, master advanced drawing techniques and other advanced features of the industry standard design program.
Taught by AutoCAD expert Brian Benton, the course includes a wide range of techniques gathered from Benton's decades of experience that will help students learn to draw more quickly and efficiently in this complex and challenging program.
InfiniteSkills' Advanced AutoCAD 2014 Training - DVD is packed with useful lessons—exploring advanced drawing techniques, project management, and collaboration features—that build from the basic skill set developed in the introductory course. Students then synthesize their knowledge in a final AutoCAD design project.
Advanced AutoCAD 2014 Video Training - DVD
Benton has over 19 years of experience in various AutoCAD design and engineering applications, including work as an engineering technician, CAD service provider, technical writer, and AutoCAD instructor. He has also served in various leadership roles for the AutoDesk newsletter HotNews in addition to working on AutoDesk's development team.
Benton's experience means students get the insights and techniques developed over a career of AutoCAD practice in just a few short hours with the Advanced AutoCAD 2013 Training Video from InfiniteSkills.
"Autocad drawings are nothing but data," Benton explains, "and i will show you how to get that raw data and use it inside your program, how to extract it, how to overlay it, and how to use it to visually display your drawings in different ways. AutoCAD is a complex program, and we will learn more of what it can do."
Topics covered include drawing navigation, where students learn to create, use, and save, named views; and advanced operations, including advanced use of the application menu, keyboard shortcuts, and working with polylines and spline editing. A chapter on advanced tools follows, covering alignment and 3D alignment, lengthening and joining lines and objects, and advanced selection techniques.
Many other critical concepts are covered including file management tools, drawing annotation features, and advanced use of sheets. An extended chapter covers the details of 3D design where users explore AutoCAD's capabilities for 3D modeling, including running boolean operations, manipulating 3D surfaces, and navigating in 3D, just to name a few.
Free demo videos and a full list of course contents can be found on the Advanced AutoCAD 2014 training page of the InfiniteSkills website:
http://www.infiniteskills.com/training/advanced-autocad-2014.html
InfiniteSkills offers its Advanced AutoCAD 2014 Training Video either as a DVD or a direct download from the company website at a retail price of $99.95. The course is also available bundled with the introductory course, Learning AutoCAD 2014 Training - Tutorial, at a discounted rate of $149.95. Though the compatibility of programs with user operating systems may vary, all InfiniteSkills titles and formats are compatible with both Mac and Windows operating systems. Shipping is available around the globe.
About InfiniteSkills Inc.
A leader in the field of software training, InfiniteSkills strives to offer the highest quality training available at an affordable cost. InfiniteSkills tutorials are task-oriented instructional videos, teaching complex skills by providing hands-on examples, guiding users as they carry out critical objectives. InfiniteSkills offers a comprehensive range of software titles available as DVDs, digital downloads, and iPad editions, keeping with company aim of delivering professional training to customers anywhere they want to learn.