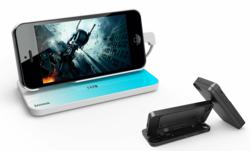 (PRWEB) May 15, 2013
Shenzhen Esorun Technology Company Ltd, a leading manufacturer and distributor of mobile phone accessories, wireless charging products and wireless external hard drives, today announced the release of its new MFi authorized battery case for the iPhone 5-FA70. This elegant and functional device is available in an array of seven fashion colors that include orange, yellow, red, green, blue, white and black. Esorun's advanced iPhone 5 battery case offers a 2150mAh capacity to produce extended use times for the iPhone 5 user. This is especially important due to the high power requirements and advanced processing power of the Apple iPhone 5 system. The Esorun FA70 also serves as a convenient stand that can be configured in multiple angles for maximum utility in a wide range of activities that include video recording, watching movies and television programs, and working applications.
The patented FA70 iPhone 5 power case incorporates a number of elite features, including the following:

Can be adjusted to multiple angles and used in landscape configurations
Li-polymer cell for extended battery life
Cable stores securely inside to protect it against wear and tear
Can be used open or closed for added versatility
Input and output of 5V-500mA
Patented and stylish product design
Allows photo and video recording while in use
All colors feature a black camera hole cutout to prevent unwanted reflections during camera use
Official eight-pin connector
MFi authorized and certified products have been approved by Apple for use with their lineup of cellular phones and mobile devices. This allows consumers to buy with confidence from MFi authorized manufacturers and developers.
The new battery case can be used in landscape mode for added convenience. Landscape mode is ideal for watching video content, including movies, television shows and music videos. It can also be helpful when taking pictures and recording videos as landscape mode allows widescreen views of the recorded content.
The Apple iPhone 5 deserves the best and most innovative battery case to provide consumers with more time to enjoy its advanced features. The new FA70 battery stand is the perfect accessory for the iPhone 5 and delivers portable charger to allow even more functionality from this exceptional communications device. It is said that Esorun will firstly display this creative gadget in CTIA, 2013 in May in Las Vegas. The fans can go to its booth (7451) for more details.
About Shenzhen Esorun Tech.:
As an elite manufacturer of mobile phone accessories, power banks, wireless chargers and wireless hard drives, Shenzhen Esorun has built its reputation on delivering the best accessories and peripheral products for the mobile technology marketplace. The company specializes in creating cutting-edge products for Apple iPhones and iPads and provides innovative accessories for these modern cellular devices, such as key chain chargers, allowing consumers to enjoy the most elegant solutions for all their communications needs.