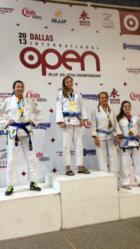 Dallas, TX (PRWEB) May 10, 2013
Rachel Ranschau, 17, traveled to Dallas, TX on May 5th with her fellow female teammates to compete at the IBJJF Dallas Open, held at the campus of Texas Women's University. Rachael trains with Lloyd Irvin Martial Arts Affiliate Third Law BJJ in Naples, FL.
Rachel, in the blue belt female feather weight division, would need three matches to win gold. Her first match was won on points after hitting her signature De la Riva sweep. In her second match, Rachel hit the sweep again, this time passing the guard and finishing her opponent with a kimura from side control.
"That was the first time I've finished a kimura from that position. It was exciting," Rachel said afterwards.
In her finals match, Rachel faced Jessica Dobbs of Killer Bees BJJ College. When the match began, Rachel beat Jessica to the guard pull and again started working her sweep. After a few minutes, Rachel hit the sweep and started looking for another kimura. This time, however, she could not finish as Jessica defended the submission. Rachel would go on to win by 2 points and grab the gold medal.
Rachel is a full-time high school student and looks forward to graduating next year. At Third Law BJJ, she works with children in the After School program, tutoring and playing games. One of her favorite games to teach the kids is suduku. In fact, between matches, Rachel relaxes by solving the challenging puzzles.
Rachel is one of Lloyd Irvin Martial Arts rising stars and will be competing in the World Championships later this month. Be on the lookout for the killer young lady.