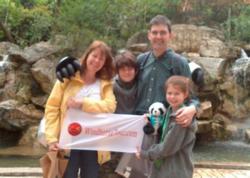 The panda volunteer work was a great way to learn more about the panda. I learned many things about personalities and demeanor of the pandas -- Debra
(PRWEB) May 23, 2013
WindhorseTour, a top China travel agency, offers their new Chengdu focus tours which are more accessible and friendly to family travelers. With over 10 years experience of customizing tours for foreign travelers, WindhorseTour has taken their local experts to offer the tours which do meet the demands of different groups of clients, including children of all ages.
"The Chengdu Family tour we offer allows clients to participate the activities throughout this city. I am very happy every time I meet the travelers who have happy children smiling because of the tours I was help." Murphy, a travel adviser at WindhorseTour said. They have added new features which could offer their clients more activities, such as panda volunteer or cooking class to enjoy the time with their beloved family members.
Panda volunteer is highly recommended for the families who have kids. Clients will spend half a day to get up close to the adorable pandas, and participate some interesting activities including cleaning the pandas' garden, feeding pandas, and more. WindhorseTour was the first travel agency to organize panda volunteering tours for foreign travelers, they can arrange everything for their clients in advance.
Debra, a client from WindhorseTour said, "The panda volunteer work was a great way to learn more about the panda. I learned many things about personalities and demeanor of the pandas."
After the panda volunteer work, WindhorseTour suggest their clients take a half day cooking class in Sichuan Cuisine Museum. Under the guidance of master chiefs, all the family members will spend time working together. The chiefs work with children to prepare some simple Chinese dishes such as dumplings and noodles, while parents learn how to cook more advanced Sichuan cuisines, all taking place in a modern and safe kitchen environment. Other activities to choose from including watching a Sichuan opera, hiking in Mount Qingcheng are also some great opportunities to create last memories in Chengdu.
When planning a family focus tour, it is best for travelers to decide what they are interested in most, the travel advisers at WindhorseTour will share their clients expert advice and help them plan an itinerary which can be around those interests.
WindhorseTour specializes in creating tailor made experiences based on every client's unique needs and operating groups to all provinces in China. Please visit WindhorseTour.com for more information or contact them.
Email address: news(at)windhorsetour(dot)com
TEL: (+86)-288-559-3923, (+86)-288-625-4701
Fax: (+86)-288-625-4710