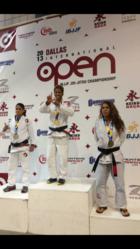 I had a lot of fun, there was a lot of good competition
Dallas, TX (PRWEB) May 13, 2013
On May 5th, while most celebrated Cinco de Mayo, Lloyd Irvin Martial Arts students were winning gold medals at the Dallas Open. The IBJJF held the Dallas Open regional tournament on the campus of Texas Women's University last weekend. The small tournament hosted mostly white and blue belts, but several upper belts came to test their skills before the World Championships held later this month.
Among the athletes present, were three of Lloyd Irvin Martial Arts female students; Nyjah Easton (Black belt), Sijara Eubanks (Brown belt), and Rachel Ranschau (Blue belt). All three ladies overcame the competition and took first place in their respective divisions.
Nyjah Easton had to complete a "round robin" to bring home her gold medal in the light-feather black belt female division. First against Nyjah was Sue Ausman of Travis Lutter BJJ. Nyjah pulled guard and swept Sue early in the match. After a few minutes, Sue swept back, tying the match 2-2. However, Nyjah would pull away, sweeping, passing and mounting Ausman to win 12-2.
Sue would go on to fight Sophia Amarante (The Avengers) to determine who would face Nyjah in the finals. Amarante tapped Ausmen with an armbar in less than two minutes of action.
In the finals, Nyjah and Sophia had an incredibly close match. Both ladies were respectful of each other, neither engaging early, forcing the ref to call one penalty on each athlete. After the stalling call, the women picked up the action. Nyjah looked for armbars and triangles to no avail. Sophia tried to pass the guard by playing tight and heavy. With the end of the match closing in and neither player with points on the board, Sophia sat for an ankle lock, but could not score an advantage point with the attempt. The match went to ref's decision and Nyjah Easton was determined the victor for more action from the guard.
"I had a lot of fun, there was a lot of good competition. It was a good experience to test my weight and great preparation for the World Championships (later this month)," says Nyjah Easton.
Nyjah's teammates would also win their respective divisions. Sijara Eubanks, brown belt female medium-heavy, defeated Summer Wihelm for the gold. Rachel Ranschau, blue belt female feather, also won her weight class.
Nyjah teaches women's mma fitness classes at Lloyd Irvin's Martial Arts Academy. She also is a consultant for new incoming students.
Look out for all three ladies to compete in the IBJJF World Championships later this month.