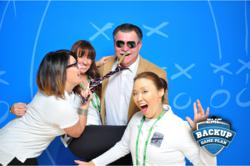 Event Photo Marketing creates new customers.
Las Vegas, NV (PRWEB) May 16, 2013
Event Photo Marketing and Onsite Printing Photography are what deliver new leads and keep current customers informed of your business model and products. The EMC World 2013 Convention in Las Vegas at the Sands Expo was a tremendous success. Using Professional Images Photography to help capture leads using custom created Event Photo Marketing software made the difference.
Approximately 10000 attendees roamed the EMC World Tradeshow floor the past few days at the Sands Expo and Professional Images Photography was contracted to provide Event Photo Marketing with Onsite Printing Photography. The goal for the customer was effectively capturing leads and also sending out information. Joseph Rodriguez owner of Professional Images Photography provided the ability to send out an email with the photo attached while printing the photo onsite - and also live instant upload to clients single or multiple Facebook pages in addition to sending out a tweet using @eventfotostoday that had the attendees twitter name and the companies hash tags and twitter information plus any message. Daily reports were created showing which Facebook pages attendees chose, list of twitter names collected and emails collected.
A live slide show of images were shown throughout the day to showcase all participated. Social Media shapes the way we do business and how we create new customers. For more information on this service contact Joseph Rodriguez at 1.888.486.3241 or email at joseph(at)proimagesphoto(dot)com
About Us:
Since 1987 Professional Images Photography has been providing Convention Photography services Nationwide. Based in San Antonio, TX with offices in Houston, Orlando, Washington D.C., New York and coming soon to Las Vegas, NV. 1.888.486.3241