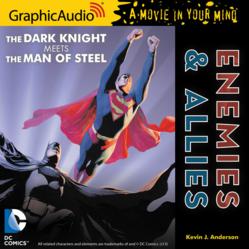 Bethesda, Maryland (PRWEB) May 09, 2013
DC Comics' novelization of ENEMIES & ALLIES is now available in GraphicAudio®…A Movie in Your Mind®. GraphicAudio and Warner Bros. Consumer Products, on behalf of DC Entertainment, have entered into a licensing agreement under which three DC Comics novelizations will be released in the GraphicAudio® unique audiobook entertainment format in 2013 and 2014.
DC Comics and GraphicAudio® have worked together since 2007. A total of 20 DC Comics novelizations have been published in the GraphicAudio format to date, including the CRISIS on INFINITE EARTHS Series and the JUSTICE LEAGUE of AMERICA Series.
In Publishers Weekly's 2007 review of DC Comics INFINITE CRISIS Parts I and II in GraphicAudio®, Kevin Howell said, "Graphic Audio delivers an action and sound effect–loaded audiobook that lives up to its tagline, 'A movie in your mind'…Their sound development for a range of hard to conceptualize sounds, like heat vision or super-speed, manages quite well. Their integration of background music can subtly raise the anxiety and anticipation in listeners. Upon finishing this audiobook, listeners will undoubtedly want more." [Kevin Howell, 6/25/2007. Audiobook Reviews. Publishers Weekly. Retrieved from http://web.archive.org/web/20091206192404/http://www.publishersweekly.com/article/CA6454262.html
AudioFile Magazine's 2008 review by Lance Eaton said, "GraphicAudio sets the gold standard for full-cast dramatizations, and new listeners will become instant fans." [Lance Eaton. February/March 2008. Audiobook Reviews. AudioFile Magazine. Retrieved from http://www.audiofilemagazine.com/dbsearch/showreview.cfm?Num=31359
GraphicAudio® audio productions average six hours of action-packed audio entertainment with sound effects, cinematic music, narration and a full cast.
ENEMIES & ALLIES is written by New York Times Bestselling Author Kevin Anderson.
"Evil is loose in the world. As the United States and the Soviet Union race to build their nuclear stockpiles, two extraordinary men are called upon to form an uneasy alliance. Studies in opposites—shadow and light—the Dark Knight and the Man of Steel must overcome their mutual distrust to battle a darkness that threatens humankind. And when the paths of these titans cross, a bold and exciting new chapter of history will be written...and nothing will ever be the same."
"ENEMIES & ALLIES" in GraphicAudio® is on-sale now available at http://www.graphicaudio.net/p-1119-enemies-and-allies.aspx. Two more titles, "IT'S SUPERMAN!" and "WAYNE of GOTHAM" in GraphicAudio® will follow.
For a preview trailer, visit http://www.graphicaudio.net/p-1119-enemies-and-allies.aspx.
About Warner Bros. Consumer Products
Warner Bros. Consumer Products, a Warner Bros. Entertainment company, is one of the leading licensing and retail merchandising organizations in the world.
About DC Entertainment:
DC Entertainment, home to iconic brands DC Comics (Superman, Batman, Green Lantern, Wonder Woman, The Flash), Vertigo (Sandman, Fables) and MAD, is the creative division charged with strategically integrating its content across Warner Bros. Entertainment and Time Warner. DC Entertainment works in concert with many key Warner Bros. divisions to unleash its stories and characters across all media, including but not limited to film, television, consumer products, home entertainment and interactive games. Publishing thousands of comic books, graphic novels and magazines each year, DC Entertainment is the largest English-language publisher of comics in the world. In January 2012, DC Entertainment, in collaboration with Warner Bros. and Time Warner divisions, launched We Can Be Heroes—a giving campaign featuring the iconic Justice League super heroes—to raise awareness and funds to fight the hunger crisis in the Horn of Africa.
About GraphicAudio®…A Movie in Your Mind®: GraphicAudio®…A Movie in Your Mind® is an imprint of The Cutting Corporation. Since 2004, GraphicAudio® has published approximately 850 titles and 50 different series in their GraphicAudio®…A Movie in Your Mind® audiobook entertainment format. GraphicAudio® has adapted other comic novelizations and prose novels in GraphicAudio®…A Movie in Your Mind®. For more on GraphicAudio®…A Movie in Your Mind® visit: http://www.graphicaudio.net.
All related characters and elements are trademarks of and © DC Comics.
(s13)