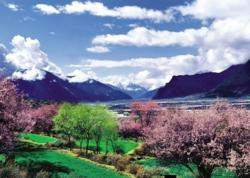 The new route in the updated Eastern Tibet tour covers all of the must see destinations, ensuring clients will not miss any highlights. -- Helen Wang
(PRWEB) May 11, 2013
In recent months, WindhorseTour has received many inquiries for overland trips from Sichuan to Tibet, which is still close for foreign travelers. They also update their "Eastern Tibet tour" to ensure that none of the breathtaking scenery or culture elements is missed.
As an alternate of starting the overland trip from Chengdu, WindhorseTour suggest their clients to fly or take the train to Lhasa. Upon arrival at the capital of Tibet, they will have an overland trip following the traditional Sichuan Tibet trail to the Eastern Tibet. "The new route in the updated Eastern Tibet tour covers all of the must see destinations, ensuring clients do not miss anything during their trip," Helen Wang, the sales manager at WindhorseTour said.
Travelers will enjoy a 4-day scenic drive across Sichuan-Tibet Highway as they travel east. Holy Lake Draksum Tso is the first scenic spot along the route, where clients will capture the peaceful lake and its surrounding landscapes from green and forested mountains to snow capped peaks.
The itinerary is designed to be flexible, allowing time for clients to stop and take photos of the diversified landscapes of Eastern Tibet. They will cross the Serkhym-la (with an altitude of over 4,500 m. 14,764 ft.) to admire the majestic Namche Barwa (7,756 m. 25, 446 ft.). The other highlights include the gorgeous alpine valleys lined with rhododendron bushes, and the virgin glaciers in Midui.
The final destination in this tour is Ranwu Lake, which is one of the most beautiful parts along the Sichuan-Tibet Highway. If clients want to extend their trips to Sichuan, WindhorseTour Chengdu office will be pleasant to help them to customize their trips.
WindhorseTour specializes in creating tailor made experiences based on every client's unique needs and operating groups to all provinces in China. Please visit WindhorseTour.com for more information or contact them.
Email address: news(at)windhorsetour(dot)com
TEL: (+86)-288-559-3923, (+86)-288-625-4701
Fax: (+86)-288-625-4710