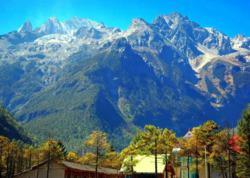 The new route in the Eastern Tibet tour covers all of the must see destinations to ensure clients do not miss any highlights during their trip. -- Murphy
(PRWEB) May 30, 2013
In recent months, WindhorseTour has received many inquiries for overland trips from Yunnan to Tibet. Currently foreign travelers are still not allowed to travel along this route. Therefore, WindhorseTour has updated two new alliterate tours, the "Yunnan Tour to Shangri-la" and "Eastern Tibet tour" on their website. Both have been developed to ensure that none of the breathtaking scenery or culture elements are missed.
"We suggest our clients separate their travel plans into two parts. They can stay a couple of days in Yunnan before taking a flight from Kunming or Shangri-la to Lhasa, and then have an overland trip to the Eastern Tibet." Murphy, a travel adviser at WindhorseTour expressed.
During a visit in Yunnan, the route from Kunming to Shangri-la is one of the most popular tours for those who want to explore the Tibetan culture outside Tibet. Travelers will have a chance to explore the mysterious culture of Tibetan Buddhism while admiring the beautiful landscapes in Shangri-la.
The other highlights along this scenic route include Lijiang, an ancient town blessed with fresh air, and an undisturbed landscape inhabited by a friendly group of people. On the way from Lijiang to Shangri-la, travelers will enjoy a short trek in Tiger Leaping Gorge, one of the deepest gorges in the world.
Upon arrival at Shangri-la, clients can choose to venture deep into the Mount Meili or take a flight to Lhasa to extend their trips into Eastern Tibet, which is a vital destination in the route from Yunnan to Tibet. "The new route in the updated Eastern Tibet tour covers all of the must see destinations to ensure clients do not miss any highlights during their trip." Murphy said.
En route over this 10 days Eastern Tibet tour, travelers will enjoy a 4-day scenic drive through Sichuan-Tibet Highway towards east. The destination is Ranwu Lake, which is the most beautiful part along the Sichuan-Tibet Highway. The landscape along the road varies from Namche Barwa snow mountains at 7,756 m. (25,446 ft.), Midui virgin glacier to the lush Lunang forest. The itinerary is designed flexible, clients will have time to stop and take photos.
WindhorseTour specializes in creating tailor made experiences based on every client's unique needs and operating groups to all provinces in China. Please visit WindhorseTour.com for more information or contact them.
Email address: news(at)windhorsetour(dot)com
TEL: (+86)-28-85593923, (+86)-28-86254701
Fax: (+86)-28-86254710