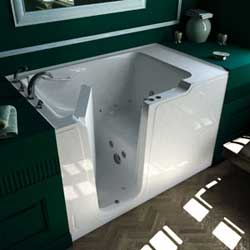 Customers can customize the walk in bathtubs and handicap shower stalls according to their specific needs.
Denver, CO (PRWEB) May 09, 2013
A specialized bathroom supply company that distributes handicap shower stalls and senior bathtubs, Aging Safely Baths announces ozone sterilization for hydrotherapy walk in bathtubs. This exceptional technology can potentially help minimize bacterial growth within the bathtubs whirlpool jet lines and plumbing located below the tub.
The company specializes in providing bathroom products designed for the mobility challenged, such as handicap shower stalls and low entry step in senior bathtubs. According to Aging Safely, the ozone sterilization comes as an option and customers can purchase walk in tubs without any accessories.
These unique handicap showers and walk in bathtubs are providing people with bathing independence, and the ability to bathe with a greater sense of security. It's more and more common for seniors and family members that are caring for loved ones to make modifications to their homes; in an effort to make aging in place manageable.
In many instances, seniors have the option of living in an assisted living or a nursing home, and sometimes it is a necessity. However it's hard to argue the many potential benefits of being able to age in surroundings that are familiar, such as home. Walk in tubs and handicap shower systems are typically only a portion of what customers need to consider when making their home conducive to the special needs of the elderly, or someone with major mobility restrictions.
Several of the walk in tubs and transfer bathtubs available come with warm air hydrotherapy and powerful whirlpool jetting systems. People everywhere are discovering the many potential benefits of hydrotherapy and using this special technology in their own homes anytime they want. Customers that prefer homeopathic approaches to wellness appreciate being able to use hydrotherapy without chemicals.
In addition bathers can enjoy essential oils and experience aromatherapy, while turning on the colored mood lighting chromatherapy to make their bathing experience something memorable and rejuvenating. It is important to note, shoppers can choose a walk in tub with only air jets, only water jets or dual jetting. Several of the models offered by the company also have a self cleaning mode for the air hydrotherapy system, in which the blower automatically purges the lines of any excess water that may have leaked into the system.
Aging Safely offers several of the most popular walk in tubs, transfer bathtubs and handicap shower brands to all 50 states and Canada. There are many things to consider when purchasing a specialty product such as this. Those interested in more information are invited to contact the company for a no obligation consultation. Customer service representatives are available to help shoppers select the appliance that best suits their specific need needs.
Contact Information:
Zachary Wennstedt
1-888-779-BATH(2284)
info(at)Agingsafelybaths(dot)com