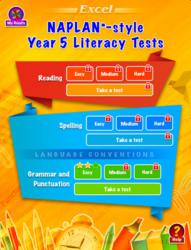 The Excel NAPLAN*-style Test Apps are designed to make the most of the iPad's highly motivational qualities
Sydney, Australia (PRWEB) May 10, 2013
Primary school students can enhance their preparation for the NAPLAN Literacy and Numeracy Tests with the new series of highly motivational Excel NAPLAN*-style iPad apps released by leading Australian educational publisher Pascal Press.
Since their release in March 2013, the Excel NAPLAN*-style series of apps have been received with overwhelming enthusiasm by parents and teachers, with thousands of downloads on iTunes.
Taking full advantage of the intuitive, touch-sensitive interactivity of the iPad, the Excel NAPLAN*-style Test Apps are designed to make the most of the iPad's highly motivational qualities, proven to enhance children's learning, to prepare primary school students for the NAPLAN Tests.
A 2011 study by the Victorian Department for Education and Early Childhood Development reports that 90% of students find learning more fun when using an iPad. The study also concludes that the intuitive, touch-sensitive functionality of the iPad makes it an effective and engaging learning tool in the classroom.
Pascal Press has released six apps that help prepare Year 3 and Year 5 students for the NAPLAN Literacy and Numeracy Tests. Each app includes hundreds of NAPLAN*-style questions, providing students with hints and detailed explanations of answers. The apps also include timed tests that simulate the actual NAPLAN Literacy and Numeracy Tests. There are also two free 'Lite' apps that provide samples of the literacy and numeracy content of the apps.
The apps are part of a range of Excel NAPLAN*-style products created by Pascal Press, which also includes a series of books providing Year 3, Year 5, Year 7 and Year 9 students with structured revision programs, practice tests and guides to prepare for the NAPLAN Literacy and Numeracy Tests.
The range of Excel NAPLAN*-style apps are available for download from iTunes.
For more information on the Excel NAPLAN*-style Test Apps please email Lynda Pendino at lynda.pendino(at)pascalpress(dot)com(dot)au.
About Pascal Press
Pascal Press is Australia's leading independent publisher of educational resources. For over 22 years Pascal Press has published quality educational resources to help Australian students understand almost all school subjects from preschool to Year 12. All Pascal Press books and apps are produced by a highly experienced team of writers and specialist educators committed to making products that improve results both in the classroom and at home.

This is not an officially endorsed publication of the NAPLAN program and is produced by Pascal Press independently of Australian governments.