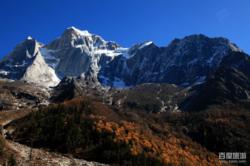 It is a great chance to capture the unique alpine landscapes mixed with blue sky, clouds and mist, snow peaks, ancient cypress forests, and rushing waterfalls. -- Helen Wang
(PRWEB) May 18, 2013
WindhorseTour, a local travel agency with offices in Chengdu, have released a 5-day overland tour to Mount Siguniang, an unspoiled wilderness park located in Western Sichuan. One of the new features includes the horse riding in the Changping valleys, making it as a truly unique experience for outdoor lovers, trekkers and photographers.
Travelers start with a 7-hour scenic drive from Chengdu to Danba in the first day. The altitude rises from 500 m. (1,640 ft.) to 2,000 m. (6,562 ft.) when they enter the Hengduan Mountain Ranges in Western Sichuan. "It is a great chance to capture the unique alpine landscapes mixed with blue sky, snow peaks, and ancient cypress forests," Helen Wang, the sales manager at WindhorseTour said.
Upon arrival, travelers will have a chance to explore the mysterious culture of local Tibetans while admiring the beautiful landscapes in Danba. "Clients can choose experience a home visit in which they'll become familiarized with the process of making butter tea and taste Tibetan diet. In the evening, they will enjoy some Tibetan cultural shows," Helen Wang expressed.
On the third day, clients will drive further from Danba and ascend to Changping Valley. With an altitude of 3,700 m. (12,139 ft.), it is the first place for clients to capture the four main peaks of Mount Siguniang. Also called the 'Alps of the Orient', Mount Siguniang got its name from a local Tibetan legend that says the four peaks are four pretty girls.
The horse riding in Changping Valley is suitable for all levels of fitness and experience. Travelers will spend 6 hours to pass through original forests, bestride brooks, and surmount the snow-covered mountains.
In the next two days, clients will visit Shuangqiao Valley near Mount Siguniang. Then they will return to Chengdu via the same scenic route. If clients want to extend their trips to the other highlights in Sichuan, WindhorseTour highly recommend the tours to Jiuzhaigou National Park or 2-day tour to Mount Emei.
WindhorseTour specializes in creating tailor made experiences based on every client's unique needs and operating groups to all provinces in China. Please visit WindhorseTour.com for more information or contact them.
Email address: news(at)windhorsetour(dot)com
TEL: (+86)-28-85593923, (+86)-28-86254701
Fax: (+86)-28-86254710