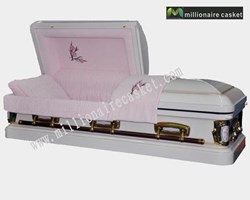 (PRWEB) May 09, 2013
Recently, MillionaireCasket.com, a leading casket company and casket wholesale distributor, has added its new oak casket collection to its line of wood caskets. As a new product promotion, oak caskets come with great discounts.
The company has been supplying metal caskets, wooden coffins and other useful funeral products. They use their experience to manufacture high quality products only. It has its own manufacturing facility which is loaded with advance machinery. The professional craftsmen from the company check every detail very acutely. The quality coffins are distributed worldwide via a network authorized by the company. Each product from the company is inexpensive.
The CEO of the company says, "We are very excited to release new products and launch the promotion to show appreciation to all clients. We manufacture quality wood caskets in a wide selection of designs and styles available in both traditional and unusual wood species. Our caskets have a good market performance, and have greatly stimulated the company's business growth in the past few months."
Zoe Wong, the CEO, further adds, "The new oak caskets introduced are as good as other products supplied by the company. We have strict quality policy to ensure high quality. Customers can make use of our new product launch discount offer on oak caskets."
The caskets are available in varying sizes which range from infant coffins to extra large caskets. In metal caskets, bronze and steel coffins are featured and in wooden ones the oak caskets have been added just recently.
MillionaireCasket.com is a leading China casket manufacturer, and focuses on the business of casket wholesale. This company offers an exquisitely crafted line of all kinds of metal caskets, solid wood caskets, veneer caskets, cremation caskets, rental caskets, orthodox caskets, infant or over-sized caskets and European style coffins. The standard quality control policy is strictly applied here, and a third party quality assurance is also available.