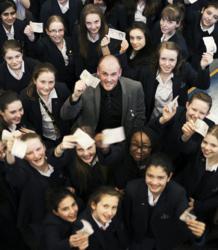 (PRWEB UK) 9 May 2013
In support of the Tenner initiative – a nationwide competition to help inspire the next generation of business leaders; Better Bathrooms Founder and MD Colin Stevens visited local school, Bury Grammar for Girls, to share business tips and ideas.
Run by Young Enterprise, Tenner gives teenagers across the UK the chance to utilise hands on entrepreneurial skills and kick start their own business ideas.
With 60 Bury Grammar Girls aged between 12 and 14 signing up to the scheme, Colin's visit saw him partake in an interactive Q&A with 18 driven teams. Offering his own advice whilst answering questions on creating a successful business, Colin guided the teams on targeting the right customers and creating innovative products.
"Sell something that people want, and sell it to the people who want it. It's all about thinking of your audience."
"In school I sold drawings of Star Wars characters. If it's in high demand then people will buy it."
"Jewelry & fashion are cheap to make and something that people always want."
"People are a big challenge for any business, if you've a great team then your business will match."
With his own entrepreneurial journey starting from the play ground, Colin began at aged seven selling hand drawn Star Wars characters to his fellow pupils. Knowing all too well how to develop a successful business idea regardless of your age, Colin proved a perfect ambassador for Tenner.
From humble beginnings, Colin's success with his bathrooms and tiles retail business, Better Bathrooms, has lead him to scoop Entrepreneur of the Year at the National Business Awards, Growing Business Awards and North West Entrepreneur of the Year Awards.
With each pupil/team handed a humble £10 note on May 1st as start up capital from the Tenner Bank, Bury Grammar School for Girls alongside the 25,000 other young teenagers taking part have the month of May to put their plans into action and generate as much money as possible. At the end of May, loans are repaid with each business then able to keep profits made and spend as they wish.
Helping the girls along throughout the Scheme is Bury Grammar Teacher Rachel Hartley who said, "I'm really looking forward to seeing what ideas the girls come up with for their £10. It certainly isn't an easy task to create a profit from a small amount, so we're thrilled to have Colin come in to give the girls some tips and advice to get the creative juices flowing."
For more information on the scheme visit the Tenner website.