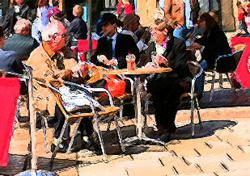 it's great that StepChange have chosen shine a spotlight on the plight of some over 60s
London (PRWEB UK) 9 May 2013
StepChange, debt charity, has reported an alarming increase in the number of older people experiencing debt crisis in the UK. In 2012 the charity saw an increase in the number of over 60's seeking help of 36%, versus the same period in 2009.
Perhaps even more worrying is that debts for over 60s in need of help were higher than those for any other age group, yet as Delroy Corinaldi, external affairs director for StepChange, reminds us, over 60s are "...particularly vulnerable as their earning potential has diminished."
Over 60s had average debts of £22,999 versus a combined average across other age groups of £17,635 and it appears the main reason for the difference is pretty clear cut - Credit card debt.
Over 60s averaged £15,152 of credit card debt, whilst all age groups combined averaged around £5,000 less at £10,006. Simply by bringing their credit card debts down to average levels, over 60s could bring their total indebtedness in line with the general population (to £17,853). Even then they would still be more indebted than the average Brit, due to higher than average catalogue, overdraft and store card debt.
Perhaps one positive finding from the StepChange research was that over 60s are less reliant on payday loans than the general population – having borrowed over £400 less through these prohibitively expensive sources of credit.
A spokesman for uk.creditcards.com offered these thoughts on the situation:
"It's obviously worrying that people coming to the end of their working life, or already claiming their pensions, are facing such tough times, but it's great that StepChange have chosen shine a spotlight on the plight of some over 60s.
Although there are many pensioners who are relatively well off there are clearly great numbers struggling too. Obviously the current economic climate is the cause of much of this hardship, but as we've seen from recent Saga data many older individuals don't always help themselves by getting online to get the best deal for credit cards and other financial products.
Given that the government is also shifting much of the state infrastructure through .gov.uk it's essentially that, as a nation, we improve online literacy amongst over 60s."
_______
Based in Colchester, Essex, uk.creditcards.com is one of the UK's leading credit card websites. With great tools, tips, news & comparison tables, uk.creditcards.com helps UK consumers get the best deal on their credit cards.