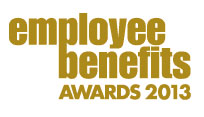 (PRWEB UK) 13 May 2013
The categories include the "Most Motivational Benefits", for its ASDA - Stars Recognition Programme, and British Gas - Simply Thank You Recognition Scheme, as well as the "Best Voluntary Benefits Plan", for its NHS - PScashback Black MasterCard.
ASDA and British Gas' employee recognition schemes designed by P&MM Motivation enable the organisations to boost motivation and engagement across the business by encouraging employees to recognise and thank one another for hard work or a job well done.
The NHS PScashback Black MasterCard is a pre-paid cashback card, created and run by P&MM, which enables employees to save money at thousands of high street retail stores, supermarkets, restaurants, local businesses and online providers by shopping with the card. Since its launch in 2011, the NHS Black Card has proved to be an outstanding success, with more than 26,000 NHS colleagues registering for a card, accruing £482,000 of cashback savings for themselves.
John Sylvester, executive director of P&MM Motivation says: "On behalf of the entire P&MM Motivation team, it's fantastic news that our clients have been short listed for these prestigious industry awards; certainly testament to the hard work and expertise of the clients and our team. These projects have proven hugely successful, and all delivered impressive results. We face some tough competition, but look forward to hearing the results."
http://staffmotivationmatters.co.uk/three-pmm-programmes-make-the-employee-benefits-awards-2013-short-list/