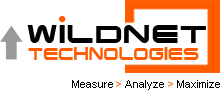 Measure > Analyze > Maximize
Noida, India (PRWEB) May 09, 2013
Wildnet Technologies Pvt. Ltd., one of India's top three leading digital marketing providers, was named into Deloitte's Technology Fast 500 Asia Pacific Companies, a program that recognizes organizations achieving the fastest rates of revenue growth in their respective industries.
The company automatically received the distinction after ranking 32nd in Deloitte Technology Fast 50 India in recognition of its 169% revenue growth after a period of evaluation. According to Deloitte, the Fast 50 program rans "high-growth technology companies by location or specifically defined geographic area."
Only companies with innovative business models, superiority in services and human resources that have managed to thrive in the face of the economic difficulties were included into the Fast 50 India program.
Jolyon Barker, Deloitte's Managing Director for Global Technology Media & Telecommunication, said they noticed that the fastest growing businesses in the technology industry have sustained their growth figures despite the economic slowdown that gripped the Asia Pacific and the West.
"In the face of changing demand patterns internationally and now within the region, their power and performance is visible and clearly quantified in the statistics of the Technology Fast 500 Asia Pacific 2012 Ranking," he said.
According to Deloitte, companies participating in the program can help leverage the rankings to boost their brand to their employees and clients, develop networking opportunities, gain local and regional publicity, and gain interest from investors.
Wildnet Technologies CEO, assures the company's continued pursuit for excellence to sustain the gains they have achieved since its beginnings in 2006. The Deloitte's rankings, he said, was only a testament to the company's core philosophy to make the customers the main focus of its online business strategy.
"Over time we have demonstrated ourselves as a highly ethical company among the outsourced community, I am sure more and more new companies will use us in the near future," he said.
Although Wildnet was officially established in 2006, CEO said it was preceded by eight years of "learning the ropes with some of India's leading digital marketing companies."
Since it was launched seven years ago, the company has grown as a four-member operation into nearly 300 employees with "functional experts in all the major domains". It is now considered as India's top three SEO companies.
About:
Wildnet Technologies Pvt. Ltd is a certified ISO 9001:2008 company and also a Google Adwords partner. For inquiries about its products and services, contact its customer representatives through email at sales(at)wildnettechnologies(dot)com. Visit its website at http://www.wildnettechnologies.com to know more about the company.