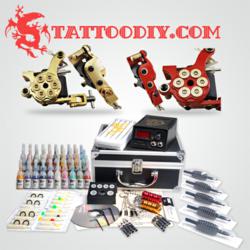 (PRWEB) May 09, 2013
TattooDIY.com is well-known for its high-quality cheap tattoo kits. Recently, the company has announced all its tattoo kits for sale. Now, all the professional tattoo equipments at TattooDIY.com are offered at discounted prices, up to 50% off.
The products from TattooDIY.com include high-quality powerful tattoo gun kits, tattoo starter kits, coil tattoo machines, and more. Their products are very popular for the trendy designs, functionality, and durability. To serve customers worldwide better, the company has invested a lot of money to build several overseas warehouses in the USA, UK, Canada, Australia and Germany, so that customers can buy their products at lower prices with faster delivery.
"We are really excited to launch the promotion to make our products available to more people and expand our market share, because we have received positive online reviews for our products in the past few years. Now, you can save much money," says, a representative for the company. "Now, all our tattoo products are offered at greatly discounted prices. Those who want to buy professional tattoo equipments should visit our online shop as soon as possible, because the promotion will end at the end of this month."
Low-priced tattoo kits are extremely popular in today's economic environment, because people would not spend money like before. TattooDIY.com knows this very well, and always launches promotions for its high-quality and trendy tattoo products at affordable prices.
About TattooDIY.com
Founded in 2008, TattooDIY.com is a professional tattoo machine company, offering thousands of kinds of premium-quality tattoo supplies, and most of its customers are from the US, Europe, and Australia. They are devoted to delivering fashionable tattoo products to customers worldwide without sacrificing the top-quality materials and fast delivery (by DHL, UPS, EMS, or TNT).