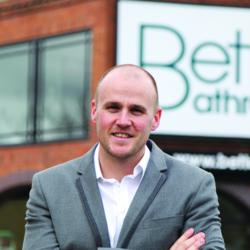 (PRWEB UK) 10 May 2013
As the world's most prestigious business awards for entrepreneurs, Better Bathrooms Founder and Managing Director Colin Stevens has been successfully short listed in the 2013 Ernst & Young Entrepreneur of the Year programme.
Attracting a record number of nominations, 137 outstanding business leaders from around the UK have been successfully selected. The judges recognised their phenomenal achievements and contributions that help drive the nation's economy.
As one of 43 regional semi-finalists from the North, Stevens will do battle against a broad selection of entrepreneurial talent including Paul Stoneham of ghd and James Lambert of R&R Ice Cream.
Following the announcement, each regional finalist must now wow the UK judging panel. Basing their judging criteria on various areas, the winners must showcase a wealth of innovation, an impressive financial performance, both national and global success, social responsibility and of course, entrepreneurial spirit.
Following a wealth of entrepreneurial success during 2012, Stevens hopes to continue his award winning streak which saw him scoop Entrepreneur of the Year at the National Business Awards, Growing Business Awards and North West Entrepreneur of the Year Awards.
MD Colin Stevens said, "This is yet more great recognition of Better Bathrooms' success. In such a competitive market we've reaped phenomenal achievements over the past 12 years, therefore it's fantastic that other realise our accomplishments and huge potential."
The regional winners from the North will be announced at a black tie gala on June 25th at the Manchester Hilton Hotel. All successful winners will then go on to represent the North during the prestigious UK finals in October.
Stuart Watson, Ernst & Young's Entrepreneur of The Year UK Leader, said, "In the face of a flat economy, the clear theme from the finalists is that the UK's leading entrepreneurs are searching out opportunities for growth and using innovative thinking to get ahead of their competition wherever they can. Be it by investing in international markets – exports to China and India are growing strongly – or delving deeper to achieve new levels of understanding and research about their customers or client experience, it's in their very nature to look for growth.
"Entrepreneurs aren't waiting for traditional markets to recover and they are agile enough to ramp up activities and capitalise on pockets of potential."
Sponsored by Credit Suisse, the Ernst & Young Entrepreneur of the Year Awards now takes place around the globe, in more than 50 countries and 140 cities. The programme was founded to recognise the importance of entrepreneurship.
For more information and a full list of regional finalists, please visit: http://www.ey.com/UK/en/About-us/Entrepreneurship/Entrepreneur-Of-The-Year