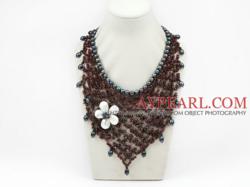 Aypearl Online Jewelry Store Announces New Arrival of Garnet Jewelry
(PRWEB) May 14, 2013
Aypearl.com, a well-known wholesale jewelry website, releases its new designs of garnet jewelry with reasonable discounts to worldwide customers.
Garnet has a crystal structure. The crystal structure of the garnet is isometric, rhombic, dodecahedron. Its hardness can amount to 6.5 to 7.5, which entails people to process the garnets in many shapes like diamonds. Garnets come in a wide range of colors varying from red, purple, and pink, to black, yellow, violet brown, transparent orange, green and bright green etc. The garnets in bright green are the most valuable ones.
Garnet is thought to be the birthstone of January. It is the symbol of friendship, loyalty and sincerity. Hence, garnet is considered to be lucky for those people who are born in January; these people often wear a variety of jewelries made of garnet. Another special occasion worthy of a piece of garnet jewelry is the second wedding anniversary.
Garnets are quite good for one's health. It is believed to stimulate the bloodstream and pituitary gland, and help combat depression, lethargy and nightmares. Garnets are to be carried close to the body to maximize their balancing and peaceful energy, and are said to protect travelers from harm. Customers can easily find more than 300 styles of fashion garnet jewelry from Aypearl.com, such as garnet necklaces, garnet bracelets, garnet earrings and so on.
About Aypearl.com
As the famous and leading China jewelry supplier, Aypearl values each customer's satisfaction and requirement. High quality, reasonable prices, good customer service, and fast shipping are good reasons for choosing Aypearl. There are more than 10,000 styles of jewelry on Aypearl. Welcome to wholesale China jewelry from Aypearl.com .
More garnet jewelry information can be found at: http://www.aypearl.com/garnet-jewelry/.