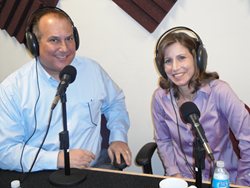 Habitat has affiliates in 1500 locations in the U.S. as well as 70 countries world-wide.
Atlanta, GA (PRWEB) May 09, 2013
On May 8, 2013, co-hosts Stone Payton and Lee Kantor of BusinessRadioX®'s Learning Insights discussed organizational development in the nonprofit sector with Susan O'Connell from Habitat for Humanity International. Joining them in the studio was David Adelman with TrainingPros, sponsor of Learning Insights.
Habitat for Humanity International is a nonprofit, Christian housing ministry that believes that every man, woman and child should have a decent, safe and affordable place to live. They build and repair houses all over the world using volunteer labor and donations. Habitat then partners with families to purchase these houses through no-profit, no-interest mortgage loans or innovative financing methods. Houses are built through volunteer labor and donations. The homeowners invest hundreds of hours of their own labor into building their Habitat house and the houses of others. The homeowners' monthly mortgage payments are then used to build still more Habitat houses.
Susan O'Connell is a fifteen year veteran in the learning field, leading and advising on strategic and cost-effective learning programs that develop staff skills, enhance productivity, and support organizational change. In 2009, she successfully transitioned from the Fortune 50 business setting to the international nonprofit sector where she played a key role in increasing online course enrollments by 50% over a one-year period. O'Connell serves as the Learning and Organizational Development Manager with Habitat.
O'Connell explained that Habitat's mission is the focus of every single person in the organization, making it different from the corporate world. As a nonprofit, they depend greatly on the work and resources of volunteers. While known for building houses around the world, O'Connell's Habitat team also partners with volunteers to help develop learning programs as well as gain access to learning tools and resources. According to O'Connell, "Habitat has affiliates in 1500 locations in the United States, as well as 70 countries world-wide," creating tremendous need for learning programs such as Habitat history, disaster relief and more.
On the organizational development side, O'Connell said, "We are implementing a new Strategic Development Plan this year." O'Connell has supported community meetings, forums and surveys to help roll out this new plan.
To learn more about Habitat for Humanity International's approach to learning and organizational development, you can listen to this interview in its entirety at Learning Insights.
About Learning Insights Radio:
http://www.learninginsights.businessradiox.com
Learning Insights airs weekly on Wednesdays at 10am EST. Co-hosts Lee Kantor and Stone Payton interview learning professionals Improving Performance to Drive Business Results. Learning Insights is sponsored by TrainingPros.
About BusinessRadioX®:
BusinessRadioX® provides a turnkey solution for business owners who want to leverage the power of internet radio to meet their best prospects, establish credibility for their organization and heighten the placement of their brand in search engines rankings. With a professional venue and a proven formula, BusinessRadioX® helps hosts podcast their shows and create a regular stream of dynamic content to share with their prospects and feed the search engines every week. Programs are recorded and streamed live to the internet from our studios in the greater Atlanta area. For more information or to hear a live show, visit: http://www.businessradiox.com.