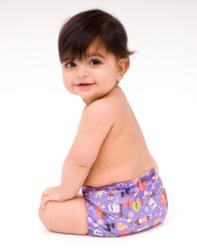 The rise in the age of potty training has coincided with the increased use of disposable nappies.
(PRWEB UK) 10 May 2013
Cloth nappy company The Clean Green Nappy Machine has released a statement saying that real nappies could help children potty train earlier.
There is a rising trend of children potty training later and later, and figures released this week show that UK schoolchildren are still struggling with using the toilet when they start school.
According to Esma Levendoglu, founder and owner the company, this bears out a trend which has been seen since the early 1980s, when the average age of potty training was 24 months. That has now risen to 33 months. She says that her customers, however, report that the use of modern cloth nappies has shown children potty-training earlier.
"Customers come into the shop and tell me that their babies are potty training much earlier than their peers", says Ms Levendoglu. She was responding to a study, reported on the BBC this week. The study, which took place across Kent, showed a high number of children were still in nappies when they started at school.
"The health care expert interviewed mentioned the link between a child in terry nappies feeling wet and the discomfort prompting a desire to become dry in the child. We have been saying this for years, and are delighted to see professionals bearing this out. The rise in the age of potty training has coincided with the increased use of disposable nappies."
She agreed that other factors will have had a part to play in the trend. Child-led parenting dictates that we take our lead from our children a lot more than in previous generations, for example, meaning that we are more likely to allow them to develop in their own time. "The huge jump in age, however, is of concern, and more and more modern parents are turning to cloth nappies and training pants to ensure that their children have the best developmental chance of training at a more socially acceptable age."
And the great news is that modern reusable nappies are easier to use than ever. With one-piece nappies which are as easy to change as disposables, cloth nappies now use a range of fabrics which are super absorbant, as well as easy to use and care for. And customers love the fun prints and bright colours available, meaning that The Clean Green Nappy Machine is confident that the trend towards cloth is set to keep growing.
About:
The Clean Green Nappy Machine is one of the best-known and most-trusted online real nappy retailers in the UK, and also runs the only specialist cloth nappy bricks and mortar shop, which opened in 2009. For more information, please visit their website http://www.cleangreennappy.co.uk, or their Facbook page http://www.facebook.com/cleangreennappymachine.