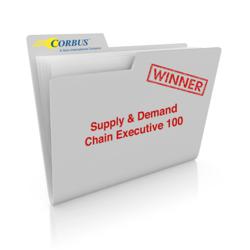 The overall results were outstanding and consisted of cost savings of 18%, well exceeding the 10% target.
Dayton, Ohio (PRWEB) May 13, 2013
Corbus, LLC was selected on May 13, 2013 as a 2013 Supply & Demand Chain Executive 100. The Supply & Demand Chain Executive 100 highlights 100 great supply chain projects produced by supply chain solution and service providers that are helping their customers and clients achieve supply chain excellence. They have produced measurable gains in ROI through cost-cutting, and increased efficiency, whether in warehouse, transportation, procurement sourcing or any other category in the end-to-end supply chain.
The award-winning project was produced for a Fortune 50 Consumer Packaged Goods Corporation. The client needed assistance in managing the tail-end of their IT spend, and the goal of the Corbus team was to manage all the non-strategic projects and vendors to allow for the client buyers to focus only on the strategic spend. The Corbus team consisted of subject matter experts and buyers who assisted the project managers in ensuring they had the right assistance in the process of vendor selection, while ensuring that the overall purchasing strategy was being followed and all the steps were compliant with the customer's internal processes.
The overall results were outstanding and consisted of: cost savings of 18%, well exceeding the 10% target; over 600 vendors managed; proper Corbus and client process alignment; high customer satisfaction; streamlined/rationalized vendors using available data; and multiple data points captured, increasing visibility.
The submissions were evaluated by the magazine's editorial staff primarily based on:

ambitiousness/scope of the project (30 percent)
creative application of technologies/solutions/services used (20 percent)
extent of the business results/impact (40 percent)
clarity of submission (10 percent)
Corbus, LLC
Corbus, LLC, a minority owned, global solutions provider founded in 1994, offers Information Technology (IT), Sourcing and Procurement and Business Process Management (BPM) related services and solutions across a variety of industries. Using a global delivery model, including multilingual and multicurrency flexibility, these services provide value by improving client business processes, reducing operating costs, improving product quality and extending global capabilities. With a focus on innovation and flexibility, Corbus nurtures each relationship to become a partner of choice for its clients. For more information, visit http://www.corbus.com.
Corbus is a global organization, headquartered in North America with a presence in Europe and Asia Pacific markets. Corbus is a wholly owned subsidiary of Soin International LLC, a private multi-national holding company that provides strategic management, administrative systems, and financial support to a diverse array of worldwide subsidiaries and affiliates.
Supply & Demand Chain Executive
Supply & Demand Chain Executive is the executive's user manual for successful supply and demand chain transformation, utilizing hard-hitting analysis, viewpoints and unbiased case studies to steer executives and supply management professionals through the complicated, yet critical, world of supply and demand chain enablement to gain competitive advantage. On the Web: http://www.SDCExec.com.