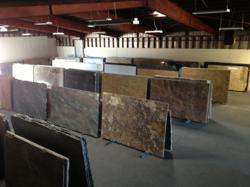 We love the service that Suzanne Morosoli and the Arroyo Grande staff provide our clients and business with. The material quality and staff knowledge make it a pleasure to work with!

Conception Tile [Facebook]
Arroyo Grande, California (PRWEB) May 13, 2013
The Arroyo Grande location first opened in the summer of 2010, in a facility just a few doors down the street from the new premises. Demand in the area has grown rapidly and the recent move presents the opportunity to offer a larger inventory in a more spacious indoor warehouse and new showroom.
The extra space at the new facility enables them to increase their selection of exotics, such as onyx and quartzite, in addition to the large inventory of granite, marble, soapstone, travertine and limestone they also offer. Arroyo Grande manager Suzanne Morosoli has over 25 years' experience in the stone industry. She is excited about the new opportunities the move presents: "the new space is amazing and we hope to welcome even more customers through our doors in the coming months."
Suzanne and her team are in the process of creating an inspirational new showroom complete with countertop displays to help customers visualize their projects. The new showroom will also be an ideal location to host industry events.
Please visit our new location at 1111 El Camino Real, Arroyo Grande, CA 93420, or visit our website for more information, inventory and images:http://www.pacificshorestones.com
Pacific Shore Stones distributes the highest quality, hand selected stone through 12 company-owned distribution centers across the U.S. As well as the Arroyo Grande location, there are also locations in Austin, Los Angeles, Birmingham, Memphis, Little Rock, Bakersfield, Fresno, Oxnard, Oklahoma City, Tulsa, and San Antonio.
The company owners personally travel overseas several times each year to hand-select stones for the warehouses. They travel to places like Brazil, Italy, Spain, India and Turkey, visiting remote quarries. They believe in selecting stones based on quality, never from images on a computer, and don't work to set lists of colors. If something looks good, they buy it. This keeps the inventory fresh and allows them to stock some truly unique and amazing stones.
http://facebook.com/pacificshorestones
http://twitter.com/pacshore