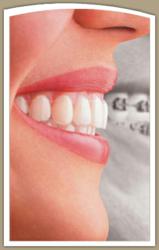 Portage, MI (PRWEB) May 10, 2013
Dr. Susan Dennis, D.D.S. will hold Invisalign Day at her practice located at 8150 Moorsbridge, Rd., Suite A in Portage, Mich., on May 15 from 3 p.m. – 6 p.m.
Invisalign is an alternative to braces that can correct mild crooked or protruding teeth, overbite and underbite. Rather than metal brackets with wires, Invisalign is a smooth, plastic retainer that must be worn 20 to 22 hours out of the day. The retainers are custom-made to fit the patient's mouth and every two weeks, the patient returns to the dentist or orthodontist to get a fitted for a new aligner.
The appeal behind Invisalign is its discreteness. Not only does Invisalign correct crooked teeth, but also the clear plastic retainers are easy to take in and out and are not obvious like braces, which leave patients with a mouth full of metal brackets and wires.
Invisalign Day at the practice of Dr. Dennis will provide patients with the opportunity to learn about this teeth-straightening solution. This is the time of year during which many individuals work on their physical bodies, so, that idea behind Invisalign Day is to "celebrate Spring with a brand new smile."
The fee for Invisalign includes impressions, all aligners, orthodontic appointments, diagnostic x-rays and retainers. The payments start at as low as $107/mo. Those that decide to start an Invisalign treatment during the event will receive an iPad Mini free. For more information, the office of Dr. Dennis can be reached at 269-327-3400. For information on other services provided by Dr. Dennis, visit her website.
The website for Dr. Dennis was designed and built by Blue Fire Media. Blue Fire Media is based out of Portage, Mich. and offers web development and design services in addition to web marketing and custom SEO strategies. The company's team is comprised of copywriters, graphic designers and programmers that work together to create websites that get found by search engines, like Google.