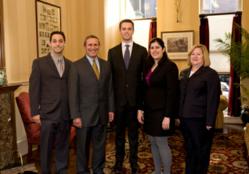 (PRWEB) May 13, 2013
The Law Firm of Pozzuolo Rodden, P.C., Philadelphia Business Attorneys, or Philadelphia Estate Planning Attorneys, announces the release of the article " Are There Tax Benefits To Make A Charitable Donation Directly From MY IRA in 2013"? If you would like to read more, please read the full article and other corporate law, or estate planning topics at: http://www.pozzuolo.com
Are There Tax Benefits To Make A Charitable Donation Directly From My IRA in 2013?
The answer is yes. A smart and convenient way to make a large charitable donation, satisfy required IRA minimum distributions, rules, and receive income and estate tax benefits is to rollover funds from an IRA directly to a charity. This type of charitable donation has existed for some time and its permitted use was recently extended by the enactment of the American Taxpayer Relief Act of 2012. Thus, in 2013, individuals may make tax-free rollover contributions from their IRAs to a charity.
Of course, certain qualifications apply to these qualified charitable distributions (QCDs), including the following:

Must be 70 ½ years of age to make the donation;
The donation is limited to a maximum of $100,000 in 2013;
The transfer must be an outright cash transfer from an IRA directly to the charity (i.e. no annuities or trusts allowed); and
The charity must be an IRS approved tax-exempt organization (donations to donor advised funds or supporting organizations do not qualify).
The tax benefits of making this kind of charitable donation include the following:

No QCD needs to be included in your gross income, which means no federal income tax has to be paid on the amount of the QCD;
The QCD will count as a required minimum distribution; and
Reduce the size of the estate (for death tax purposes) by the amount of the donation and avoid a potential 40% federal estate tax on that amount. In other words, there is the potential of a double tax savings- income and estate taxes.
If you would like to read more, please read the full article "Are There Tax Benefits To Make A Charitable Donation Directly From My IRA in 2013"? and other corporate law or estate planning topics at http://www.pozzuolo.com
Pozzuolo Rodden, P.C. provides specialized cost-effective legal services to privately held business owners and high-net-worth clients in Pennsylvania and New Jersey in excess of 35 years.
Practice Areas:
Business planning and transaction, complex business litigation, commercial real estate and development, construction law and litigation, advanced estate planning and administration, tax and pension law, high profile and intricate family litigation, and employment law and litigation.
Pozzuolo Rodden, P.C.
Counselors at Law
2033 Walnut Street
Philadelphia, PA 19103
215-977-8200
http://www.pozzuolo.com