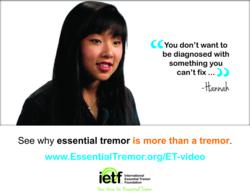 Essential tremor is more than a tremor.
Lenexa, KS (PRWEB) May 10, 2013
As part of its ongoing mission to broaden awareness and understanding about essential tremor (ET) among the medical community and the public at large, the International Essential Tremor Foundation (IETF) has released a new video centering on the emotional and psychosocial aspects of the ET, a neurological disorder that affects approximately 10 million people of all age groups in the United States, and millions more worldwide.
Featuring individuals who represent a wide range of age and experience, "Essential Tremor is More than a Tremor" presents personal stories about the challenges of life with ET. One of the six individuals featured in the film is Hannah Anthony, a 16-year-old high-school sophomore from Fort Worth. Please contact the IETF to arrange an interview with her.
"The IETF is a voice for those with ET," says Catherine Rice, IETF executive director. "We hope that this brief video will help members of the medical community and the general public begin to better understand the ways that tremor affects the whole person—physically, psychologically, socially, and emotionally."
Visit YouTube or the IETF website to view the video and to learn more.
About The International Essential Tremor Foundation:
Headquartered in Lenexa, KS, and founded in 1988, the International Essential Tremor Foundation is the leading organization in the world dedicated to those affected by essential tremor. The mission of the IETF is to fund research that will find the cause of essential tremor and lead to better treatments and a cure, increase awareness about ET, and provide educational materials, tools and support to healthcare providers, the public, and those directly affected by ET.
The IETF has distributed more than $600,000 in research grants, funding 24 promising studies, in the search for the cause of ET. The Foundation hosts numerous community awareness events across the U.S. to provide those affected with the basic knowledge necessary to become their own advocate when seeking treatment. And, the IETF also provides assistance to a vast network of support groups around the world. To learn more about essential tremor and the IETF mission, please visit the IETF website at http://www.essentialtremor.org.