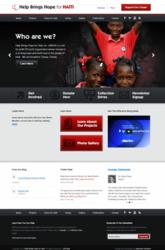 Tampa, FL and Denver, CO (PRWEB) May 11, 2013
Bayshore Solutions, a leading web design company, is proud to announce the launch of a charitable non profit organization website for Help Brings Hope for Haiti. Help Brings Hope for Haiti came to Bayshore Solutions for an online presence to promote their cause and encourage supporters for projects in Haiti.
Founded in 2003, Help Brings Hope for Haiti (HBHH) supports Haitians with self-sustaining projects and programs, from clean water, health care and education, to agriculture initiatives that serve some of the poorest areas of Haiti. HBHH brings together adults and youth who wish to bring hope to Haiti through the support of these projects. HBHH is committed to being different from other non-governmental organizations by listening to the people it serves, helping them improve their own lives, and providing essential resources to accomplish permanent change for the people of Haiti.
"The Board of Help Brings Hope for Haiti wanted to take the organization to the next level of its development, which included a comprehensive rebranding campaign. One of the most important vehicles to do this is through a state-of-the-art website that effectively engages viewers, tells our story and promotes online giving. The stellar work by Bayshore Solutions has accomplished all of this – and more, and we are very appreciative of their generous contribution," says Ann Marie Moulin, Executive Director of Help Brings Hope for Haiti.
Bayshore Solutions' design strategy included creating a new logo to establish and reinforce a brand presence. On the administrative side, Bayshore Solutions integrated WebModules CMS (content management system) to allow Hope Brings Help for Haiti the ability to readily add and update content, images and videos from recent projects to the website. Visitors can also directly donate through a Paypal integration added on the website.
"Bayshore Solutions is proud to work alongside Help Brings Hope for Haiti in delivering the web presence and functionality that effectively conveys their message, and attract needed support from audiences across the globe," said Kevin Hourigan, President and CEO of Bayshore Solutions.
To learn more about the non profit organization website for Help Brings Hope for Haiti, please visit: http://www.hbhh.org.
To read more about Help Brings Hope for Haiti and Bayshore Solutions, click: http://www.bayshoresolutions.com/portfolio-home/case-studies-launches/help-brings-hope-for-haiti-non-for-profit-website.aspx.
About Bayshore Solutions
Web design and digital marketing agency Bayshore Solutions, offers award-winning capabilities in custom web design, website development, e-commerce and Internet marketing. Founded in 1996, the web site design company has delivered custom web applications and interactive marketing services throughout the USA and internationally. Headquartered in Tampa, the firm has a web development and Internet marketing delivery team located in its Denver, Colorado office and physical offices accessible to Orlando, Miami, Fort Lauderdale, Dade County and Broward County in Florida. Bayshore Solutions integrates technology and internet marketing services to ensure measurable results for clients. For more information about Web site design and internet marketing services visit http://www.BayshoreSolutions.com.
# # #