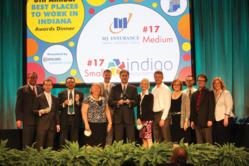 "As we continue to grow and expand our company, endorsements like these will help us attract and retain highly-skilled professionals ..."

~Raul Zavaleta, CEO, Indigo Biosystems
Indianapolis, IN (PRWEB) May 09, 2013
Indigo Biosystems (Indigo), a provider of scientific software for analytical laboratories, was recognized by the Indiana Chamber of Commerce last week before a crowd of more than 1,200 at the JW Marriott in downtown Indianapolis as one of the "Best Places to Work in Indiana." The awards ceremony unveiled rankings for the record 100 companies from throughout the state that made the 2013 Best Places to Work in Indiana list (released in February). Indigo received a ranking of No. 17 among the 33 organizations ranked in the small companies category (between 15 and 74 U.S. employees) in its inaugural year of participation in the program.
Companies from across the state entered the two-part process to determine the Best Places to Work in Indiana. The first part consisted of evaluating each nominated company's workplace policies, practices, and demographics. This part of the process was worth approximately 25 percent of the total evaluation. The second part consisted of an employee survey to measure the employee experience. This part of the process was worth approximately 75 percent of the total evaluation. The combined scores determined the top companies and the final ranking.
One of the employee comments shared as part of honoring Indigo was from software engineer Erik Snider: "The most fun and unique perk at Indigo is the bell. When someone accomplishes something big, like securing a contract or releasing a new version … that person rings the bell, and it can be heard all across the office. The sound of the bell is usually followed by applause and cheers from all corners of the office. We celebrate our successes and successful people."
"This award is meaningful, because it comes from our employees, and it tells us they approve of the workplace environment we have created," said Raul Zavaleta, CEO of Indigo. "Of course, we will not rest on our laurels, but as we continue to grow and expand our company, endorsements like these will help us attract and retain highly-skilled professionals, including those who are entering the workforce from Indiana's highly regarded informatics, engineering and chemistry programs."
According to Indiana Chamber President and CEO Kevin Brinegar, all companies making the list recognize how important it is for the success of a business to make employees feel valued. "Each one should be very proud of the positive environment they have created," he said.
More information about the Best Places to Work companies is available via a special section of the May/June issue of the Indiana Chamber's BizVoice® magazine, accessible online at http://www.bizvoicemagazine.com. Other program partners are Inside INdiana Business with Gerry Dick, the Best Companies Group, Indiana Economic Development Corporation and Indiana State Council of SHRM.
In addition to Comcast Business Class, Best Places to Work in Indiana is sponsored by: Ice Miller LLP, NIPSCO (NiSource subsidiary); Hays Companies; ADVISA; Elfcu, Eli Lilly Federal Credit Union; FedEx; Jackson Lewis LLP; Matrix Integration, LLC; Purdue University; and Smithville.
For more information on the Indiana Chamber's Best Places to Work program, go to http://www.bestplacestoworkIN.com. Companies can sign up to be notified by email when application details for the ninth annual competition are announced this summer.
About Indigo Biosystems
Indigo Biosystems delivers patented automated data review and analysis solutions to analytical testing and research laboratories. The company's hosted applications and additional services support the automation of visual data inspection. Indigo is led by an expert team of scientists and software engineers and is committed to introducing and delivering innovative solutions to the laboratory market. For more information, visit http://www.indigobio.com.
For More Information
Melissa Stahley
(317) 493-2414
mstahley(at)indigobio(dot)com