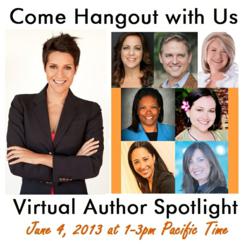 The authors will discuss the book-writing process and share excerpts and tips from their books.
San Francisco, CA (PRWEB) May 09, 2013
Six authors will be featured at a virtual bestseller author spotlight on June 4, 2013, from 1:00 pm to 3:00 pm (PST). The event will be presented by Alicia Dunams, founder of Bestseller in a Weekend, and is scheduled to host the event will host independent authors, as well as those who attended Dunams' workshop.
The virtual event will spotlight six authors. Barbara Gottseman will be featuring her book, How to Slay a Pirate: Life Lessons from Sailing the Pacific, which uses Beck's experiences sailing the Pacific for 2.5 years to encourage readers to find their passions and pursue their dreams. Beth Blecherman's book, My Parent Plan: How to Create a Family Project Plan to Organize Your Life and Your Kids, teaches how to implement project planning in order to organize, plan, and prepare for a family's life throughout the years. 44 Holistic Tips for Peaceful Sleep will be featured along with its author, Keri Nola. In this book, the holistic psychotherapist offers diverse, holistic tips, tricks, and techniques to help relieve the environmental, emotional, mental, spiritual, physical and energetic influences that affect peaceful sleep.
Other books and authors participating in the Virtual Bestseller Spotlight include 99 Ways to Make Money in Real Estate - Finding a Niche that Pays by author Tameka Bryant, who shares numerous careers and ways people can make money in real estate. Kathi Minsky joins the group of prestigious authors with her book, Network Marketing After 50, in which Minsky shares the insight she has gained as a successful network marketing professional with those who are pre-retirement. Joel Rasmussen, author of the Vacation Rental series, will also be spotlighted with his book, Vacation Rental Success: Insider Secrets to Profitably Own, Market, and Manage Vacation Rental Property. Diane Beck rounds out the circle of authors with her book, Project Management Secrets, which gives project managers insight into ways they can increase their effectiveness and overcome unique challenges in their careers.
The authors will discuss the book-writing process and share excerpts and tips from their books. Bonus prizes, as well as autographed copies of these books, will be awarded throughout the event.
Books will be available for sale through Amazon.com during the June 4th event. Those interested in attending can get details at http://bestsellervirtualparty.com/.
####
Alicia Dunams is the founder of Bestseller in a Weekend and Bestseller Business Blueprint. She is a book coach and marketing expert who has helped entrepreneurs boost their business by writing a book. Dunams also coaches her client on how to promote their book and achieve bestseller status. To contact Alicia Dunams, please visit http://www.aliciadunams.com/.