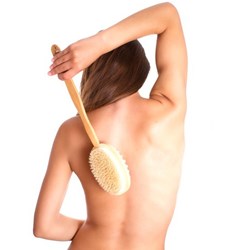 Family members should not share Skin Brushes. For this reason, Sublime Beauty® is offering a one-time, very special limited offer this weekend: buy one brush and get one as a gift. Use the secret code.
St. Petersburg, FL (PRWEB) May 12, 2013
What if there was a tool under $20 that could help with long-term health benefits? And using it only 5 or 10 minutes per day could boost circulation, support the immune system and make skin glow? The tool is a natural-bristled brush and Skin Brushing is the action. This is what Sublime Beauty® and founder Kathy Heshelow is highlighting with excitement.
Skin Brushing has been practiced through the ages, from ancient Greece and Ayurvedic India through more recent Native American tribes. Today, a small group of models, actresses and health-conscious people use daily Skin Brushing. Sublime Beauty® hopes that everyone will discover and accept Skin Brushing in their daily regimes.
Skin Brushing clears toxins and dead cells from the skin. The skin, our largest organ, eliminates up to 1/3rd of our impurities daily. As skin ages, it becomes more difficult to shed the cells and toxins and the skin can become clogged, which puts more strain on other organs. In addition, skin quality suffers. Daily brushing solves the problem. In addition, Skin Brushing boosts blood circulation and gives a feeling of invigoration. Also important, brushing boosts the lymphatic system... key to the immune system. The lymphatic system has no "pump" like the heart and typically relies on muscle movements. Brushing adds that boost. And there are other benefits Sublime Beauty® explains in a 6 page brochure to all purchasers of the Sublime Beauty® Skin Brush.
How to Skin Brush? Always brush towards the heart; use medium to firm strokes starting at the feet and working up; brush everywhere except the face; don't brush over open sores of course; and spend a little more time on the lymph-node rich areas of armpits and inner thighs as well as on areas of rough skin. Soon skin will glow and quality will improve, and daily brushing will become part of a regular and desired routine.
Family members should not share brushes. For this reason, Sublime Beauty® is offering a one-time, very special limited offer this weekend. Buy one brush and get one as a gift. The secret code to use at checkout is P6LCB4WJ (place 2 brushes in the cart and apply the code.) The offer finishes Sunday night.
"Skin Brushing benefits are clear. I hope everyone can discover this," says Heshelow.
About Sublime Beauty®
Sublime Beauty® is a quality anti-aging skin care company. Most products will launch in mid May, and have been developed with scientists and manufacturers at the highest qualities. Many are organic and most are paraben-free.