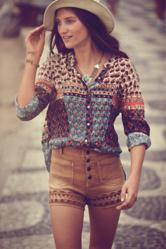 Philadelphia, PA (PRWEB) May 09, 2013
Specialty clothing brand Free People is set to open its 81st boutique at Westfield Montgomery on May 10th, 2013. The brand will bring bohemian apparel to the recently expanded shopping center.
Bethesda residents will want to start shopping early on opening day as the first 50 customers to make a purchase will receive a three-pack of Free People nail polish in fun summer hues. Other festivities will include braiding and hair chalk by Free People stylists, as well as a variety of delicious refreshments for customers and guests to enjoy throughout the day.
The 2,000 sq. ft. store is designed around a 'Blacksmith Cottage' concept, making the shopper feel as if she's stepped into a cozy, rustic getaway. With a rugged metal storefront leading to an interior of reclaimed wood walls and wide plank flooring, the space will feel as if it were an old workshop that she's found and made into her own studio space. Behind the cash wrap lives a giant yarn installation, which is sure to draw attention and make a statement in the space.
The new location will carry an assortment of apparel, outerwear, and accessories throughout the year. Dresses with flattering fit and flare and ethnic patterns are sure to be loved by locals looking for summer fashion pieces. The Bethesda location will also carry one of the largest Intimately Free People selections offered in any Free People store. The assortment of romantic and delicate pieces, including soft bras, underwire styles, and molded bras, as well as a wide range of panties, slips, and nighties will definitely make the location a one stop shop.
"This store is going to have a really great product assortment that will be perfect for the young and lively clientele of Bethesda," says Free People Director of Stores, Beth Wehagen. "We are very excited to be bringing more of the Free People brand to the D.C. area."
Each of the brand's boutiques has a full team of styling experts to help shoppers get a complete Free People look, but inspiration can also be found with Free People's online community, FP Me. This offers all Free People girls a way to share their style, create looks, curate collections, and connect with other FP fans. Shoppers in Maryland can now shop the website or new boutique and share their wears with a global fashion community through FP Me.
The store is located at 7101 Democracy Blvd, #1306 Westfield Montgomery , Bethesda MD 20817. Store hours will be Mon-Sat 10am-9pm and Sun 11am-6pm. The store's telephone number will be (301)365-3192. Fans should also "like" the store on Facebook to stay up-to-date on all of the latest arrivals, events, and other happenings. (https://www.facebook.com/FreePeopleBethesda)
###
About Free People
Free People is a specialty clothing brand featuring the latest trends and vintage collections for women who live free through fashion, art, music, and travel. The bohemian look consists of quality apparel, shoes, and accessories that invoke attributes of femininity, spirit, and creativity with its design. Free People is distributed globally via direct channels, including the Free People US site and Free People UK site, as well as specialty boutiques, top department stores, and the brand's own free standing retail locations in the U.S. and Canada.