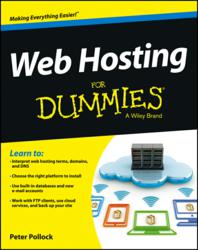 ...author Peter Pollock reveals the ins and outs of self-hosting a website and all of the functionality that most users never access.
Indianapolis, IN (PRWEB) May 10, 2013
Today, the world's bestselling reference series, For Dummies® announces Web Hosting For Dummies (Wiley, 978-1-118-54057-2, May 2013, US $24.99), a complete guide for bloggers, small business owners, and web designers and developers that want to either make the leap from a hosted to self-hosted service, or unlock the powerful web hosting tools they have been paying for but never utilized. In a straightforward and fun language that has defined the For Dummies® series for over 20 years, author Peter Pollock reveals the ins and outs of self-hosting a website and all of the functionality that most users never access.
For many new users, there's a layer of complexity that prevents them from moving to a dedicated web hosting service or using the existing service to its fullest. "All of the different names, 'Web hosting', 'website hosting', 'self hosting,' or 'blog hosting,' can be confusing at first. However, they all mean that you have complete control of how your website is made available to the world," said Pollock.
Inside Web Hosting For Dummies, Pollock uses simple, easy-to-understand language, to break down all the functions of web hosting for self-hosted users, from setting up new e-mail accounts to backing up and securing a website, analyzing server logs, choosing a platform to install and more. Coverage also includes clear explanations of more complex topics such as working with FTP clients, backing up and securing sites, understanding domains and DNS and using built-in databases.
Web Hosting For Dummies helps readers take charge of their own web hosting and having fun in the process. The book is now available for purchase online and at retailers nationwide in both print and all e-book formats. For a full list of retailers, visit http://www.dummies.com/buy/9781118540572. For additional information about this book and related For Dummies products, visit http://www.dummies.com. For readers interested in finding out more about web hosting solutions there is a new site http://www.webhostingfordummies.com powered by DreamHost. Here visitors can take a 14-day free trial and receive a special price of only $29.95 on a year of web hosting from DreamHost.
About the Author
Peter Pollock is a blogger, web host, and speaker who has addressed such groups as the Type-A Blogger's Conference and BlogWorld New Media Expo. He loves sharing what he's learned about web hosting, site security, and building websites. Find him at PeterPollock.com or on Twitter, @PeterPollock.
About For Dummies®
After over 20 years, more than 250 million copies printed, and millions of e-books downloaded, For Dummies is the world's bestselling reference series, well known for enriching people's lives by making knowledge accessible in a fun and easy way. Loyal customers around the globe agree that For Dummies is "more than a publishing phenomenon … [it is] a sign of the times," [The New York Times]. With more than 1,800 active topics covering everything from health to history, music to math, sports to self-help, technology to travel, For Dummies is dedicated to Making Everything Easier. The For Dummies brand presence continues to expand wherever there is a need to know, including e-books, mobile apps, e-learning courses, a corporate custom publishing program, a robust consumer website and a licensed product line that includes consumer electronics, culinary, crafts, video, software, musical instrument packs, home improvement, automotive, game and more. For more information, visit Dummies.com. For Dummies is a branded imprint of Wiley.
###