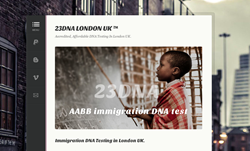 The truth belongs to all of us.
(PRWEB) May 11, 2013
Paternity DNA testing services in London UK
Find the answers you need - no matter where you live in the UK.
May 1, 2013 - As a leader in DNA and maternity testing, Natus announces that they are now going to be providing paternity and DNA testing services to their London, UK customer and patient base. The company, that has 2500 US collection sites, is not only a leader in the US, but is also highly rated by patients, as the number one in customer services. Now, for those in the UK, it is possible to find the results that are needed, for any number of reasons. Whether it is a pre birth DNA test, maternity or paternity, immigration issues, or any other issues you are dealing with, Natus delivers, and can provide the testing you need, no matter where you are.
Since they are a leader, and are fully AABB certified, this qualifies Natus to render these tests, and provide the DNA testing, to anyone. Many immigration issues, parental right issues, or even issues with custody and support, are hot topic issues; learning whether or not you are a parent, is now available to those in the UK, who want to be tested by the best professionals in the industry, for paternity testing.
"Results of the DNA paternity tests are meant only for you. We are here to help you, do not hesitate if you have to call us." Natus guarantees that all results of testing are going to be privatized, meaning only the individual being tested, and those that they allow to see the results, will have access to them. This ensures full privacy, and guarantees that when being tested, one does not have to fear that their private information is going to be given to the wrong individual. With security measures in place, only those that the individuals being tested allow to gain access to the test results, are going to be given information.
Natus is a leader in the US, and has been offering DNA, paternity, and maternity testing, since 2007. From at home tests, to the latest in pre birth testing, and the latest non invasive testing methods, the company is always striving to the best first, and most successful testers, when it comes to DNA and accurate results. reviewed and reported by AABB accredited lab, this also means that the results that are attained through testing, are fully admissible in court; therefore, results for London UK clients, are also going to be admissible in custody, immigration, or possible support cases. As a leader in the US, Natus now strives to lead the UK, and provide the same high quality methods of testing.
For those who would like further information on testing, the Natus site is a great place to go. It is also easy to contact them via email, and soon visit the labs in the UK. It is also easy to reach them at http://london.23dna.co to ask further questions, and to learn about the new methods in testing, and paternity testing that will also be offered in the UK.