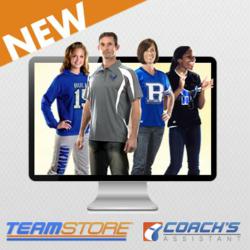 Manhattan, KS (PRWEB) May 09, 2013
GTM Sportswear® announces the launch of two new, easy-to-use web-based tools for teams, organizations and coaches: TeamStore™ and Coach's Assistant. From taking the stress out of bulk team orders to creating new fundraising opportunities, GTM is dedicated to providing customers the resources and technology they need to easily outfit their teams.
TeamStore is a free web tool that allows users to create a custom online store for their team, organization or event. Each store features hand-picked apparel chosen by the user and branded with fully custom art designs created using GTM's online design tool. No minimum order quantities are required and all payment transactions are handled online. Teams can easily outfit an entire school and their fans without the hassle of collecting money and delivering orders since product purchased online is shipped directly to the purchaser. Teams and organizations can also utilize their online store to fundraise by setting the price of each item.
Coach's Assistant was created to allow coaches to outfit their teams without the inconvenience of collecting money and individual player sizes and personalizations. Coaches can quickly and easily create an online "locker room" filled with pre-selected custom team uniforms, warm-ups and more that is accessible to players, parents and additional coaching staff. All apparel sizing and payment are handled online and orders are produced in bulk and shipped directly to the coach.
"At GTM, we're constantly thinking about ways to make outfitting teams and fans easier," said Larry Harper, vice president of sales at GTM Sportswear. "Using our TeamStore or Coach's Assistant tools can significantly reduce the time and stress associated with collecting sizing, quantities and payment, as well as holding inventory. We're also proud to be able to offer these tools with no set-up fees and present the opportunity for fundraising to our customers."
To learn more about TeamStore or Coach's Assistant, or to set up your custom store or locker room, visit http://www.gtmsportswear.com/webtools.
###
About GTM Sportswear:
GTM Sportswear, headquartered in Manhattan, Kansas, is a national provider of custom-embellished uniforms, warm-ups and practice apparel for college, school, and club sports teams. Founded in 1989, the company employs more than 850 people, including a nationwide sales team and an inside support team. For more information, visit http://www.gtmsportswear.com.