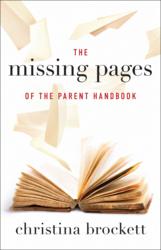 Parenting is the most difficult job a person will ever have. Every phase of life, from newborn to teenaged, represents a new kind of challenge.
Washington, DC (PRWEB) May 10, 2013
Local author to share parenting insights at a book signing event on Saturday, May 11, from 1-3pm at Cowork Frederick located at 122 E Patrick Street in downtown Frederick, MD.
When author Christina Brockett first became a parent, she quickly realized that true parenting wisdom comes from those who have been in the parental trenches. Her recently released book, "The Missing Pages of the Parent Handbook" is a product of years of interviews of ordinary moms and dads from across the country.
Unlike other self-help style books, "The Missing Pages" focuses less on the art and science of childrearing and more on supporting and educating parents who are feeling overloaded. The stories contained in the book cover a broad spectrum of issues from light to heavy through many phases of life. Each story takes the reader through a parental trial and ends with a note of wisdom. Both expectant parents as well as parents of grown children will find insightful, supportive information inside.
"I wanted the book to be like talking to a close friend who shares their story with the reader, but more importantly shares what they learned from the experience so that the mom or dad reading the book comes out wiser," explains Brockett.
Brockett did not have a so-called traditional childhood; with the birth of her first child, she naturally had doubts about her ability to be a "great" parent. Drawing on the knowledge of other parents who also had to learn as they went, Brockett has written an informative and insightful book which brings together the community's collective wisdom.
Brockett published "The Missing Pages of the Parent Handbook" through Stella Maris Press LLC, and it is currently available for purchase on Amazon. The wisdom in "The Missing Pages" makes it a great gift for expectant or new parents, or even as a Mother's or Father's Day gift.
About the Author
Christina Brockett is a working mother, writer and maintains a mom blog at http://www.momevolving.com. Her work has appeared in the Frederick News Post, Frederick Magazine's City and County Guide, the Torpedo Factory Art Center and Getsparked.org. She lives outside of Washington, D.C. with her husband, two children and dog.