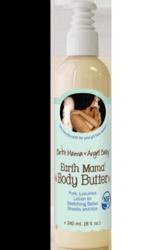 West Des Moines, Iowa (PRWEB) May 10, 2013
Bliss Baby & Maternity is excited to now be carrying Earth Mama Angel Baby Organics Products. Being pregnant, moms to be are looking for safe ways to pamper themselves.
Earth Mama Angel Baby manufactures a complete line of safe, zero toxin herbal products that support the common discomforts of the entire birth, from pregnancy through labor, postpartum recovery, breastfeeding, baby care, and ever the loss of a baby.
All of Mama's products are safe, vegan, and contain zero toxins. No artificial preservatives, fragrance, dyes, petrochemicals, SLS, parabens, 1,4-Dioxane, Quaternium-15, formaldehyde, phthalates, or any other toxic ingredients in any EMAB product. No lanolin or nut oils either.
Angel Baby Bottom Balm, Natural Nipple Butter, and C-Mama Healing Salve are all clinically test, allergy tested and non-irritating. Earth Mama Angel Baby ingredients are the purest available. They are made with the highest quality organic ingredients and herbs.
These products are so great and that is why Bliss Baby & Maternity is so excited to be carrying them. Try the Earth Mama Body Butter to help the belly from the itchy, stretching skin, just right for stretch mars and dry skin. Lightly scented and will not overpower and has no artificial fragrances.
Try the Organic Pregnancy Heartburn Tea and or any of the other great products. The baby products are wonderful as well so try out the Angel Baby Lotion, Body Wash, and Shampoo. There is truly something for all the needs you have while pregnant, after, and for the baby.
Please visit http://www.blissbabyandmaternity.com to see all these great products.