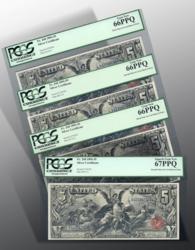 Besides being a pleasure to grade, according to our database of certifications, these are the finest sequential run of gems on record.
(PRWEB) May 10, 2013
Four sequentially numbered 1896 $5 "Educational" Notes, previously hidden in a private collection for 20 years, were recently brought back to the market by John Markis, the president of America's premier banknote dealer, Trusted Traditions, located in Ft Lauderdale, Florida. The last time these notes were ever viewed was probably in the early 1990's when they were handled by the well-known banknote dealer Stanley Moryzc.
At that time Mr. Markis, a relative newbie in the banknote hobby, first viewed these outstanding examples of one of America's trusted art treasures at a Paper Money show in Chicago, and yearned to own them himself one day. Beyond reach and in secretive private collector's hands; finally in late 2009 the astute client called and said he was getting close to selling. Recently John and the Seller were able to agree that this is best time for the retired collector to sell this grouping. Amongst other rare notes, Trusted Traditions acquired and is able to give the next generation of Paper Money Lovers, the opportunity to become the temporary caretakers of these historic treasures.
When placed with PCGS grading services for inspection, Jason Bradford, president of PCGS, assigned unbelievable grades of 67 PPQ and 66 PPQ. Mr. Bradford then freely offered "Besides being a pleasure to grade, according to our database of certifications, these are the finest sequential run of gems on record". With these words John Markis knew he again had found something very special to offer the banknote collector community, thus fulfilling the mantra that was his mission statement.
The Educational Notes were issued by the United States in $1, $2, and $5 denomination's, with others up to $1000 planned but never printed. The notes were quickly replaced in 1899 by a new type series making examples that survived until today scarce, and gem quality versions almost non-existent. The $5 series was named Electricity as the Dominant Force in the World and brought to the forefront the intensive battle raging for control of the United States production of the new electrical dynamism. History tells us that corporate giants General Electric, Westinghouse Electric, Con Edison (then Edison Electric), and even the great financier J. P. Morgan were locked in a corporate battle for its control. The vast power of Niagara Falls even entered into the fray. Ultimately both politics and money triumphed and America decided on an AC based system, much to Thomas Edison's dismay.
These notes have become the classics for any banknote collector, with each denomination being a mainstay of everyone's collection, although very seldom in the grade quality of these four $5 examples. Always desired, the $5 Silver Certificate version was formally named as one of the 100 Greatest American Currency Notes by David M. Sundman & Q. David Bowers in their 2005 book by the same name.
With the currency collecting market quickly surpassing previous record high points of 2008, John Markis remarked buying the best-of-the-best has always been a smart move and that these four notes will do nothing but appreciate in the coming years.