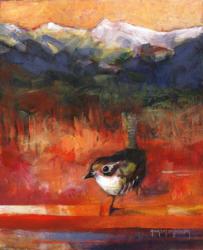 It was a remarkable experience to spend a couple of weeks hiking, sketching and painting in and around the beautiful and remote rivers, mountains and fjords of the Chilean Patagonia.
Portland, OR (PRWEB) May 14, 2013
Hawk Creek Gallery and the Oregon-based artist, Michael Schlicting, are pleased to announce the release of a new suite of fine art prints based on Schlicting's recent travels to the Chilean Patagonia. Each image represents various aspects of his trip-the coastal fjords, the spectacular scenery along the Carretera Austral, hiking the mountain trails and stunning river valleys.
The four giclees, Bosque Encantado, Carretera Austral, Ventisquero Colgante and Song of the Chucao, are each 9"x12", and digitally printed using archival paper and inks. The prints retail for $50 each, and will be available at the Hawk Creek Gallery, 4800 Schoolhouse Road, Neskowin, Oregon 97149, and online at http://www.michaelschlicting.com.
Michael Schlicting, currently profiled in the May/June issue of 1859 Oregon Magazine, is an internationally award winning artist, juror and workshop leader, whose paintings hang in over 2500 public, private and corporate collections around the world. Schlicting's paintings are inspired by his travels - he has painted in Asia, Tuscany is a favorite and frequent source of imagery, and he spent time in Mali, in Western Africa, as a Cultural Speaker for the US Department of State.This recent trip to Chile marks his eighth visit to that region.
He makes his home in Portland, Oregon and spends summers at his coastal studio/ gallery, the Hawk Creek Gallery, in Neskowin, Oregon. Michael also has a Facebook Fan Page, The Art of Michael Schlicting where people can find information on Schlicting's latest paintings, travels and up-coming exhibitions. One can also comment and connect with him by Liking his page.