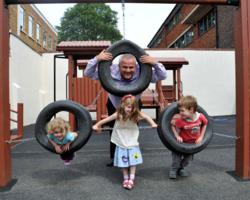 We're raising the bar on childcare.
(PRWEB UK) 11 May 2013
Following outright rejection of government plans to change child/carer ratios, the head of a leading nursery chain has announced pioneering plans to track the social and educational development of children at its seventy eight strong chain nationwide – above and beyond current government requirements.
Under the scheme which is already underway, every child's progress at an Asquith Day Nursery will be checked and monitored by experts every 12-16 weeks – and parents will be kept informed and offered professional advice on their child's progress.
CEO Andy Morris said: "We're raising the bar on childcare. Some nurseries will comply with a progress check on children at two years old and then another when they are about to go to school. But we look at progress from when a child starts with us and professionally monitor it at frequent intervals. If a child comes to Asquith at three months old we will check developmental progress every twelve weeks or so, based on the child's individuality – and we keep a log. So if there are any issues at all with that child's development they will be picked up and dealt with much earlier. If we notice any progress issues at say 12 or 16 months we are not just going to sit back and ignore them until the child has reached two. The early years are vital."
Under the new 'individually tailored learning needs' scheme the nursery group will offer help and advice to parents on a regular basis using the child's learning journal as a key reference.
Cathy Hart, Asquith training manager explained: "We are looking at the following areas of learning; personal, social and emotional development; physical development; communication and language; understanding of the world; creative and expressive arts and design and mathematics and literacy.
"If, as we monitor each child's development we find any issue with for example, speech or language, we would liaise with parents and perhaps a speech therapist to make sure that when that child reaches school age he/she is fully prepared.
"It is well documented that brains develop differently. If, for example, you did a progress check on an infant with skills like David Beckham it may well show that he would be more physically apt than he may be mathematically – so in that case we would work on practical and mathematical things and let the physical and creative elements take place and evolve naturally.
"Although we have always offered individual learning we have never before done it with this level of progression and identifying exactly what people's learning styles are. We have now taken this to a brand new level."
Cathy added "Of course we are never a replacement for parents but we are trained to bring learning situations to the forefront of children's experiences at every opportunity.
"For example, when parents are in a rush it's easier for them to put their child's coat on instead of waiting for the child to do it. But as practitioners what we do is have the child count the number of buttons on the coat as they put it on themselves and fasten their own zips.
"At mealtimes our children count the number of knives and forks we need. We count cups, we talk about who is going first, or second or third to lunch.
"Whereas a mum may well be rushing to put their child into a bath and put them to bed, we would be teaching the child scientific concepts when we use water, using words like: full; pour – and going through what happens when you add this or add that.
"So with the simple things that parents do on a daily basis we can, at the nursery, employ a mathematical, literary or scientific focus on those same things. A busy mum isn't trained to do all that. This is childcare at its best. We go the extra mile and parents appreciate it."