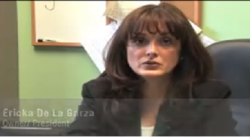 "We always want to provide our customers with the best moving experience period. The Star Mover Program ensures we deliver," shared CEO, Ericka De La Garza, of All My Sons Moving & Storage Atlanta
Atlanta, Georgia (PRWEB) May 24, 2013
The peak moving months are now upon us and there are plenty of companies vying for the privilege of being your mover. In an industry fraught with problems and consumer complaints, it pays to stand head and shoulders above the norm. One moving company that has excelled in doing so is All My Sons of Atlanta This Atlanta Mover has recently launched a new extensive training program that focuses on five points of service, Safety and Health, Customer Service, Packing and Loading, Furniture Handling and Success.
"We've been around for over 20 years and we pride ourselves in changing as technology and our industry does," exclaims De La Garza, CEO of the Atlanta division. "We secured the services of safety, transportation, furniture handling, and customer service professionals to educate and sharpen the skills of our Atlanta Movers," De La Garza further explained. All My Sons of Atlanta brought in industry leaders to supply hands on training for each of their moving crews with the overall goal of raising the bar of service for all the clients they serve this moving season and beyond. The Star Mover Program has thus far been deemed a success.
In line with their high standard for excellence, All My Sons Moving & Storage of Atlanta has been recognized for the past three years as a Consumers' Choice Award recipient and distinguished as a Pro Mover by the American Moving and Storage Association.
Since launching the business over 20 years ago, All My Sons Moving & Storage has strived to build a brand synonymous with quality modern moving and old-fashioned care. All My Sons now has 52 locations in the U.S., as well as a location in Mexico City. Whether customers are moving across town, across state lines or 100 miles or more, All My Sons Moving & Storage delivers the best in family friendly moving services.
For more information, visit http://www.allmysons.com/atlanta/index.aspx
https://www.facebook.com/allmysonsatlanta.
About The Consumers' Choice Award:
Established in 1987, the Consumers' Choice Award® identifies and promotes businesses that deliver customer service excellence. The Consumers' Choice Award® has retained a leading independent research firm to conduct surveys in U.S. cities; Columbus , Atlanta, Dallas, and Houston. The winners are determined by consumers and not by a panel of judges. The survey covers a broad range of categories of interest to both the public and business communities. Its purpose is to publicly identify those establishments that have been voted by consumers as being their choice for excellence. The Consumers' Choice Award® is a most prestigious tribute to local businesses that serve their communities well. The program is encouraged by all levels of government and by business leaders. Find out more about The Consumers' Choice Award by visiting http://www.consumerschoiceaward.com/