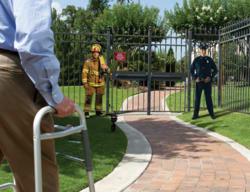 Protecting patients is no longer a job that stops at the door.
(PRWEB) May 28, 2013
Detex Corporation, an industry leader in life safety and security door hardware for commercial properties, is filling an important market need by offering delayed egress hardware that stands up to the weather. Of the many applications for this weatherized product – ranging from outside gates to interior doors that get wet or are exposed to the elements – one of the most often specified uses is to protect patients from unauthorized entry or exit in outdoor areas at healthcare facilities, such as hospitals and assisted living centers.
Now, more than ever, it is very important for healthcare facilities to protect their patients. Protecting patients is no longer a job that stops at the door. While patients are enjoying a stroll in the courtyard, healthcare facilities must be sure that they can't wander beyond the gate and are secure from outsiders who might try to get in. At assisted living facilities, for example, where Alzheimer's patients, the elderly, or other patients who cannot be independent are in residence, delayed egress hardware is used in secured courtyards or gardens to prevent them from wandering away. Locked from the outside, the devices allow egress from the inside in a non-emergency situation with a 15-second delay, or immediate exit in a fire emergency. An alarm sounds at monitoring stations, such as a nurse's station, if someone attempts an unauthorized exit, notifying caregivers in time to remedy the situation, but freeing staff from constant personal supervision.
Detex weatherized delayed egress hardware can be ordered as an EasyKit®, complete with everything needed for easy installation, including pre-wiring. In the rugged, high-quality Advantex® line, it is available in an architect-approved stainless steel finish. Other Detex EasyKits often specified by healthcare facilities include AOD (Automatically Operated Doors), ACD (Access Controlled Doors), and ED (Electrically Dogged Doors). Any EasyKit can be ordered with a single order number that specifies all the components for the particular job.
For more than a century, Detex has earned the trust of architects and owners who rely on Detex products for the safety and security of people and property. A USA company, Detex designs, manufactures, markets and ships products around the world from New Braunfels, Texas. Detex is known internationally for life safety and security door hardware, loss prevention and architectural hardware, integrated door security systems, and guard tour verification. For more information, visit http://www.detex.com or marketing(at)detex(dot)com.